One Guest = One Tree Planted
Whether you ski, snowboard, mountain bike, hike or just love the fresh mountain air, here in Morzine nature is on our doorstep and we are so lucky. The mountains bring us life. But the questions is...for how long?
Starting in winter 2019, we have pledged that every client who comes to stay at More Mountain will have a tree planted on their behalf by us through our planting partner One Tree Planted, a non profit based organisation who plant trees in areas of the world that need it most.
Taking more responsibility for our contribution to the climate crisis and communicating sustainability to our customers is an important step in the right direction. Rather than waiting for government action and others to fight climate change, we have decided to act ourselves. We strongly feel treeplanting is a natural, tangible, simple, and life-giving solution to help save the planet.
One Guest = One Tree
We hope our "One Guest = One Tree" scheme is easy to compute, understand and get involved with. We have partnered with One Tree Planted to physically plant trees to increase reforestation around the world. They are an amazing organisation and we can actually decide where we want to plant our trees.
We have chosen to plant in Asia, Latin America and Africa. These are all places we can't easily get to, but places we feel need immediate support with reforestation projects to help reduce the impact of global warming on our planet. It's a starting point – it's tangible, simple, and life-giving and the start of something good.
So, what can YOU do?
We have set up this fundraising page to start planting trees. Hopefully you will see our contribution to the numbers of new planted trees grow and grow and grow… we'll add to this monthly as our guests flow through the doors!
One Tree Planted is such a simple concept yet tangible enough to understand, and completely transparent to us as the fundraiser so we can see where our money and goodwill is going.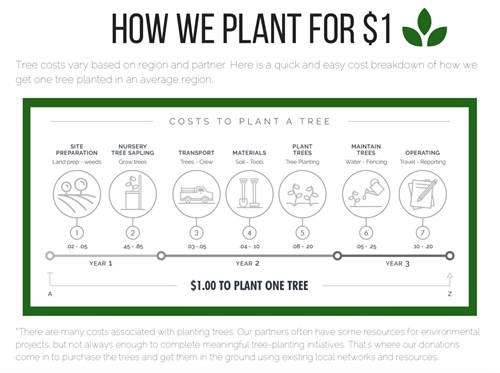 Why are we doing this?
We pride ourselves on our guest experience and customer service, but it's time for us to give something back. Now more than ever, on top of the small things we do to protect the environment at a local level, we feel we need to take action to Protect Our Winters, prolong the longevity of our planet and protect our children's future.
We cannot eradicate the carbon footprint our business makes, however, we can certainly help to reduce it. By working with One Tree planted, we want to help minimise the impact of our business on global warming to our planet and we trust One Tree Planted to help us achieve our goal.
We don't sell flights, BUT, we do want to recognise and take responsibility for the fact that our work indirectly encourages and enables air travel. We cannot help but feel a responsibility to offset the effects of that method of transport on our planet before it's too late.
We want future generations to be able to experience the world's cultural and natural wonders the way we do today.
Climate is changing
Morzine is a pretty town – some would say idyllic with its stunning mountain backdrop and wilderness. We run a ski chalet business in winter and an outdoor activity company in summer. People come to us from all over the world to enjoy the mountains.
However, the impact of global warming on our world is coming into sharper focus with every passing year. In the years since we arrived in Morzine we have noticed that the summers are getting hotter and the winters are getting warmer and wetter, not snowier. It's evident that we not only need to Protect Our Winters but we, as a business need to work harder to protect our environment.
People can be sceptical about climate change, however, it is clear to us that there are a large number of places in the world where time really IS running out for many natural habitats and environs and this in turn effects us all.
So… here is our pledge:
Every client that comes to stay at More Mountain from this winter and beyond will result in one or more trees being planted in locations in need of reforestation through our planting partner One Tree Planted.
It's our gift to our guests… It costs them nothing.
It helps us raise awareness without being too "in ya face"
It's our gift to the planet.
It's just us doing our little bit.
It's a small step in the right direction, something we believe in and more importantly something we can build on.
Why have we decided to plant trees?
Reforestation has been identified as the #1 most effective and affordable solution for climate mitigation in a peer-reviewed study by scientists in over 15 institutions around the world.
Trees clean the air we breathe and the water we drink. They also contribute to a stable climate and overall health, support wildlife and biodiversity, and provide a positive social impact.
Deforestation has increased dramatically around the world. In 2017 alone, the Earth lost 40 football fields worth of forests every SECOND – due to logging, mining, cattle grazing, forest fires, and poor forest management practices. We can't undo all of that, but we can help in the work of restoration.
We love trees! They are the pillars of our outdoor adventures, fill us with inspiration, and create stunning landscapes we want to enjoy for many years to come.
Want to help?
Support global reforestation projects by making a donation to team More Mountain. The process is fast, easy, and secure at the side of One Tree Planted… and you can be sure that it will benefit a great cause!
Come join the "tree hugging" squad and let's plant some trees. Click here to DONATE and help us to grow this good cause!