Activities for Non-Skiers in Morzine
There is more to Morzine than skiing and snowboarding in the winter! With this in mind, we have compiled a list of 9 things to do for non-skiers, those fancying a day off the mountain or those just wanting a new mountain experience!
Number 1 : Night Sledging
This is HILARIOUS! When the slopes are closed to skiers and snowboarders, Morzine's Piste B is reserved by Indiana Adventures for organised sledging groups.
Armed with your sledge, the Pleney gondola opens late, exclusively for Indiana sledge goers, where it will whisk you up the mountain as daylight falls. Your guide will run through a quick safety briefing at the top and you'll be given a head torch. After that, you and your group are unleashed on Piste B, and emerge, after the thrills and spills, at the Tremplin, perfect for a celebratory (or nerve-steadying) drink! During the January months, you're whizzing along in the dark, only guided by a head torch for an additional adrenaline fix... come February as the nights get lighter, it is more about the sunsets!
Either way, if you're staying in one of our catered properties, this is a great thing to do on your hosts night off. It's such good fun we wrote a full blog on Night Sledging a couple years ago after a "night on the piste" with the staff (ha ha - no pun intended!) so take a look at the whole experience in detail.
Number 2 : Go Ice Skating - Indoor and Outdoor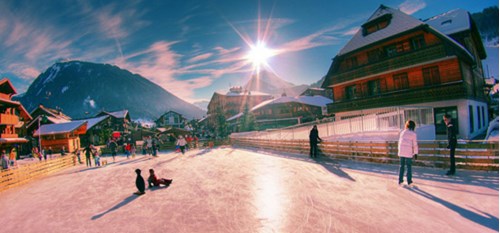 Outdoor - The Outdoor Rink is located next to the tourist office, in the central square of Morzine Village. Morzine's outdoor ice rink allows families to skate together with lights and music, before warming up with a vin chaud or hot chocolate in one of the nearby bars. Open every day from 10.30am to 12.30pm and 3pm to 7pm throughout the winter season.
Indoor - at Parc des Dereches. Open during the day and with night sessions from 9pm - 11pm on Tuesday and Thursday, although be warned these are sometimes postponed due to hockey matches or special events. You can see the up to date opening times for the indoor ice rink here.
Number 3 : Watch an Ice Hockey Match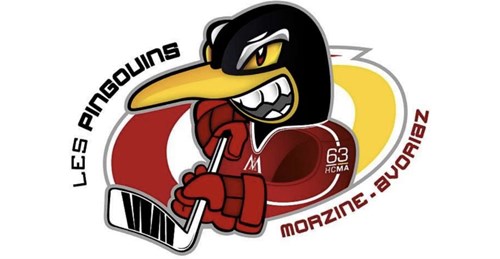 Watching Les Pingouins, Morzine's ice hockey team is a must! Morzine has a famous Ice Hockey team with top players imported from across the globe. Morzine Penguins have a top class reputation so this is certainly not a game for amateurs. Have an early dinner, grab your mates and head down to the Palais des Sport for an evening of icing, face-offs and nail-biting action! Wrap up warm, get a drink from the bar and take a seat for an action packed evening. Buy tickets on the door, from the tourist office, the local Carrefour Supermarket in town or online. (Adults from €9, Children €5, free for under 5's).
Number 4 : Snowshoeing and Winter Nordic Walking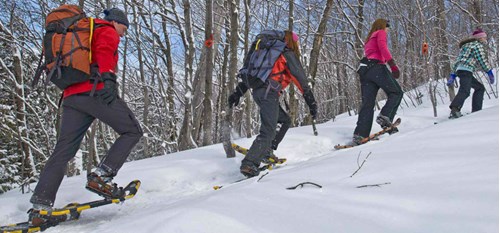 Harnessing technology from over 6000 years ago, snowshoes allow you to float over the deepest of snow, giving you access to the mountains around Morzine like never before. A great way to experience the snow for non-skiers, Jason and Vivien at Days Away Adventures are highly qualified mountain guides who know all the best spots for epic views and a touch of marmot spotting! Also great if you have your dog with you... it's completely safe to do so with your pooch and Jason and Vivien are very doggy friendly.
General Winter Walks This is ideal for non-skiers in Morzine who still want to experience the mountains. Whilst there's plenty to see pottering around Morzine itself, riding the lifts as a pedestrian gives you access to a great network of prepared trails and paths, perfect for all levels. You can buy a "Pedestrian ONLY" lift pass or just grab a simple "Aller et Retour" from the Telecabine at Pleney. Sprinkled with a variety of mountain restaurants, these itineraries are a great way to work up an appetite, before you sit back and enjoy the view. Trail maps are free from the Morzine Tourist office.
If you want to stay in town, there are a number of great local walks, both along the River Dranse to the Cascades De Nyon waterfall which can often look like Narnia in the middle of winter and makes for a great sledge pulling trail for little nippers! Also the Parc Dereches is very accessible for a more gentle meander through trees and woodland, again a magical experience and great for a dog walk if you are lucky enough to have your pooch with you.
Lake Montriond, which can be accessed easily from the centre of town via the Free "M" Bus, is a beautiful and stunning place of serenity and offers an easy flat walk around the lake edge for those wanting a bit of peace and quiet. Whilst the crowds are on the slopes, take in the the calm and tranquility of the frozen lake and see some of the local wildlife in the forest. Thanks to Studio Polly for this magical image.

Number 5 : Ice Diving at Lake Montriond
Speaking of Frozen lakes - If you are you a seasoned scuba diver, looking for a new thrill? Or if you just need to chill- literally! Don a special dry suit with Plongee sous Glace and plunge under the ice of Lac de Montriond. Bordered by cliffs on one side and the magnificent Nantaux on the other, this is an alpine experience like no other!
Plongée sous glace - Lac de Montriond from Laurent Farges on Vimeo.
Number 6 : Paragliding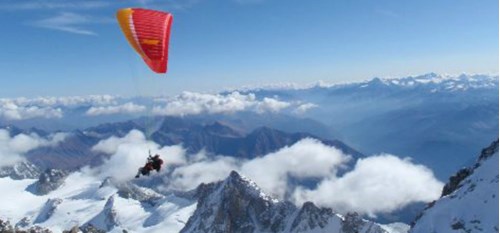 Taking off from near the top of the Super Morzine lift, paragliding with Morzine Parapente is available for all ages. You can experience a tranquil flight with a skilled pilot to get amazing views of Morzine. Following birds of prey looking for thermals, this is not a big scary extreme sport (unless you ask for it to be). If you want to go upside down, spin and do other gravity defying moves book the "sensation" flight. Once you have taken off you just have to sit in the armchair-like harness and enjoy the mountains, before landing near the Pleney lift station. Also have a look at Speed Riding - Parapenting with your skis on! AeroBi in Morzine are famous for this, as well as Parapenting.
Number 7 : Snowmobiling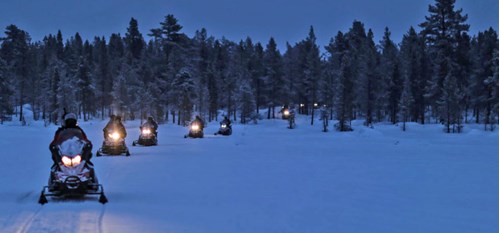 Petrol heads will love this! Once the slopes have closed, and the sun goes down, take an Avoscoot tour of the slopes on a snowmobile! Available for groups and individuals, this is a great way to see the mountains and the stars like never before.
Number 8 : Swimming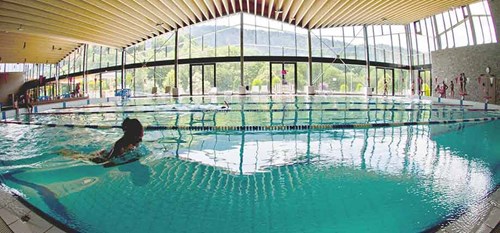 Fancy a splash? Morzine's Palais des Sport boasts a 25m pool, a teaching pool, a plunge pool and a kiddies splash area, as well as saunas, steam baths and loungers for relaxing.
The pool in Morzine is open each day between 12.00 and 8.00pm (or 2.00 pm until 8.00pm on Saturdays and Sundays). There is a 25m pool with lanes plus child pool and steam room. Prices are approx €5 per adult and €4 per child. More info is available on their website here.
For a day with the family, why not head up to Aquariaz- a tropical paradise on the side of a mountain! With indoor rivers, an aquatic halfpipe, a climbing wall and an outdoor jacuzzi with a panoramic view of the valley, this is a great option for visitors with kids. Easily accessible from Morzine via the A Bus and Prodains gondola.
Number 9 : Les Aigles de Leman - The Eagles of Leman

This is the new experience being offered called Les Aigles du Leman at the Point De Nyon Restaurant at the top of the Nyon Telecabine. You can sit with wild birds of prey and enjoy a coffee whilst owls, buzzards and condors fly freely around you. It's an amazing experience and very unique. The man behind it is renowned ornithologist and falconer Jacques-Olivier Travers who moves his prize birds of prey from his bird park, Les Aigles du Léman near Thonon-les-Bains to the Mountains. He is offering visitors to the resort the chance to ski with an eagle or simply just watch the birds fly freely around the diners. It's a very different alpine experience and something to remember!