The Taste of the French Alps - Fondue
Fondue, a Mountain Speciality
The Portes du Soleil area of the Alps stretches across France and Switzerland. This means that some Swiss dishes such as fondue are very popular over the the border. More Mountain are based in Morzine, which located on the French side of the Portes du Soleil. Our location is great for fantastic food.
We have already published a blog featuring tartiflette (which includes our recipe!), so for the second blog in the series we thought we would talk about fondue.
Why Choose a Fondue?
Fondues are really social. Sitting round a pot bubbling away in the middle of the table with friends and family slows down the meal. This gives you loads of time to talk about your day skiing and snowboarding. Obviously most restaurants in the French alps serve fondue, but there are also lots of shops that rent out fondue sets and have everything prepared. This is great if you are in a self catered property and want to eat in.
You do need to be aware that tradition dictates that there are fondue rules:
1. If a man drops his bread in the pot, he has to buy a round of drinks.
2. If a woman drops hers, she has to kiss her neighbour.
3. Your fondu fork must only be used to transport food from the pot to your plate not to eat with. (It makes sense really, hygiene aside, that fork will be really hot!)
4. No double dipping!
So if your fondue forks don't work very well, it could mean you have quite an interesting night.
Types of Fondue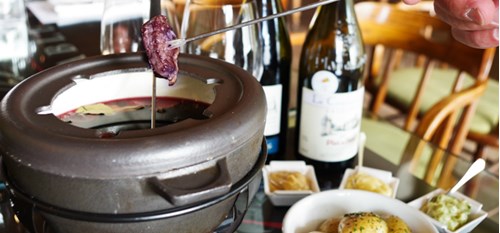 There are lots of different types of fondue, but here is a short guide to the 3 most popular. If there is enough people, we like to order a meat and a cheese fondue to share, so you can try both!
Cheese
Dipping cubes of bread in melted cheese in the centre of your table is strangely satisfying. The most common cheese fondue found in Morzine is made up of Comte, Beaufort and one or two other local cheeses such as Reblochon or Abondance. To add to the rich flavour, some kirsch and a hint of garlic is added. At the end of your meal, some restaurants will ask you if you would like a couple of eggs cracked in to the last of the cheese. This makes nice cheesy scrambled eggs.
If you fancy making one at home, get yourself a fondu set from a charity shop and try this recipe:
Preparation time: 30 Minutes
Cooking Time: 15 minutes
Ingredients (for 4):
- 500 g of Beaufort
- 2 to 3 glasses of white wine
- 400 g Comte
- 300 g Tomme de Savoy
- 1/4 Reblochon cheese (optional)
- 1 small glass of Kirsch
- 1 teaspoon of corn flour
- 1 clove of garlic
- 1 crusty bread
Preparation:
Cut the bread into cubes.
Cut the cheese into strips, REMOVING THE RIND.
Reserve the reblochon until the end (it will be added at the end to tie all the cheeses).
Dissolve a spoon of corn flour in a small glass of kirsch.
Rub the pot with the garlic clove until the garlic is worn down.
Heat the white wine (medium heat), when it foams, lower the heat and gradually add the cheeses into slices, stirring with a wooden spoon.
When all the cheese is melted, add the reblochon, the kirsch and corn flour mix.
Turn the fondue burner on and place the pot on to it.
Enjoy
Bourguignonne
This is the meaty version of a fondue. You have a pot of hot oil on the table, in which you cook pieces of beef. But the thing that makes this a great meal is the accompaniments you get. Restaurants normally serve this with a salad, chips or garlic potatoes and a selection of sauces. The sauces are usually béarnaise, tartar and mustard mayonnaise amongst others.
Fondue Vigneronne
The vigneronne fondue is similar to the bourguignonne, but instead of oil you cook the meat in red or white wine. In the Red wine version, wine is boiled and seasoned with salt, pepper, onions and herbs. The white wine version is flavoured with cinnamon, chillies, coriander, white pepper and chicken stock.
These are all delicious and great to try on your chalet host's night off. I hope this helps you choose a meal next time you visit the alps!
By Tom Fortune