Health And Beauty In Morzine
Visiting the mountains is not just about adrenaline fuelled descents, followed by booze fuelled dancing on tables. Sometimes you just have to stop and chill out, or simply take some time to be good to yourself. Morzine has lots of ways to do this, from sports massages, spa days and pamper sessions. In this post we go through all of our recommended options for health and beauty in Morzine.
Parc des Dérêches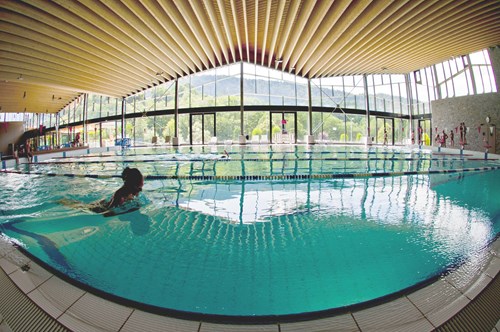 The Parc des Dérêches is the big building at the bottom of the valley that runs through Morzine. It is open in both summer and winter. This is Morzine's swimming pool and leisure complex and is a great space for when you fancy a change from skiing and snowboarding. Many of our guests like to visit the Parc des Dérêches on bad weather days too.
The outdoor pool is open in the summer and has a huge outdoor space to soak up the sun from. The indoor pool is open in both winter and summer and has two kiddie splash pools. The complex also has a sauna and steam room area, which is perfect for some relaxation time. A visit to the spa is reasonably priced, but is included with the multi-pass during the summer season.
La Dahu Hotel & Spa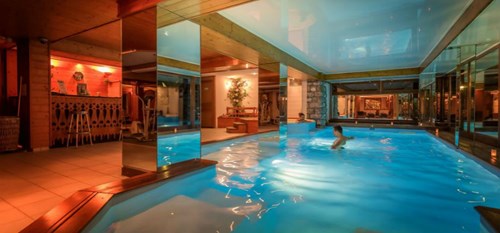 If you haven't visited La Dahu Hotel & Spa in Morzine, you are missing out. The spa has a whole range of treatments, including massages, facials, skin treatments, body scrubs and wraps. You can also choose between a number of relaxation packages to really unwind during your holiday.
You need to book your treatments before you go to the spa, but when you book, the nice people at La Dahu will drive you to and from your accommodation, to make life even easier.
Mountain Rehab

Mountain Rehab is who we call when we need to get fixed. These guys have a wide range of services from physiotherapy and sports massage. The Mountain Rehab team are super knowledgable and have been treating holiday makers and Morzine locals for a long time. They offer a mobile service and will come to your chalet or apartment, but you can also visit their treatment rooms at the Aiglon. If you want to keep up your fitness routine while on holiday, you can use their gym or attend one of their fitness or yoga classes.
Health And Beauty Visits To Your Accommodation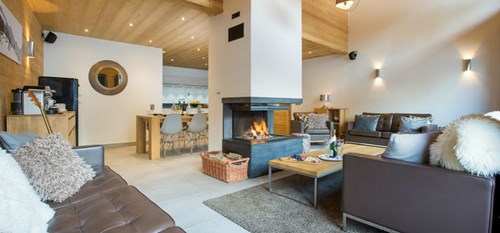 Other than Mountain Rehab, Morzine has a whole host of people that will come round to your accommodation. Our favourites are:
Morzine Massage - established in 2007, Morzine Massage offers mobile Sports massage and reflexology services in Morzine. Offering all treatments in the comfort of your chalet! So after a hard day on the mountain there is no need to step back out into the cold. They aim to give you the best massage you have experienced!
Little Wild Space - Holistic beauty treatments, massage and energy therapies. Choose from their wide range of massage treatments for lots of ways to relax and restore.
Kerri McAuley - Kerri offers different types of massage, facial treatments, manicures and pedicures. Other beauty treatments Kerri has in her repertoire include waxing and tinting.
Mobile Mountain Massage - Choose one or a combination of treatments. Their range of massages include deep tissue, holistic, pregnancy and hot stones. Mobile mountain massage tailor sessions to focus on the areas that need the most attention so you will feel relaxed and rejuvenated.
Martha Perry Massage Therapy - Martha is a Sports Massage Therapist, based in Morzine since 2015. She has experience working with a range of sports injuries & imbalances, having helped top level endurance athletes, World Cup Mountain Bikers, Olympic Freestyle Skiers & Ironman athletes. Martha adapts and tailors your massage so no two treatments are the same. The following massage styles are available, Sports Massage, Deep Tissue Massage, Classic Relaxation Massage, Hot Stone Massage, and Pregnancy Massage.
Health And Beauty Out Of Morzine
The great location of Morzine makes it pretty easy to get to other health and beauty spots. These places are ideal for Morzine veterans that want to try something new, or for those of you that are staying for an extended amount of time and want to experience other areas.
Aquariaz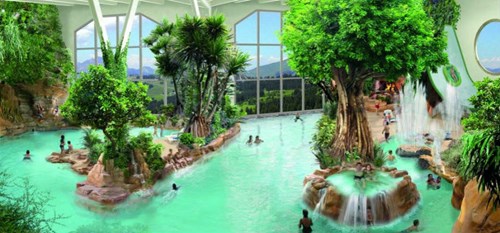 Aquariaz is up in Avoriaz and offers a little taste of a tropical paradise in the mountains. This is an indoor complex featuring lush vegetation with a lazy river flowing through it. There is also a water playhouse, a paddling pool, a large swimming pool and an outdoor hot tub. If you want to be more active, there is a range of classes to attend, from aqua yoga to aqua pilates.
Séréni-Cimes Spa
The Séréni-Cimes Spa is located in Les Gets, which is just a ten minute drive from Morzine. The spa is a cosy and intimate wellness centre. It features a traditional aromatic steam room, Kneipp foot bath, multi-coloured meditation sauna and multi-sensory experience shower. The ten treatment rooms include a Niagara balneotherapy room, a drench shower, and a herbal infusion room with an open fireplace. These allow you to experience multi-sensory relaxation treatments from around the globe.
QC Terme Spa Chamonix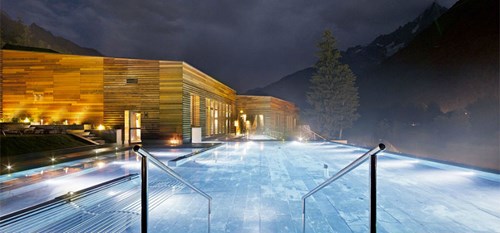 If you fancy a day away, Chamonix is only a 1 hr 20 minute drive from Morzine. There is a lot to see and do in this high alpine town, but Chamonix is home to the fantastic QC Terme wellness spa. Even though it is in France, it features a range of Italian wellness activities and treatments. Within the spa's 3,000 square meters, there are over thirty wellness practices. There is also an infinity pool whose reflection merges with the water of the adjacent Alpine lake, all with a breathtaking view of the Bossons Glacier.
Chamonix is a well worth experiencing during your stay in Morzine, especially if you have a car. However, if you don't, you can contact Mountain Days Away, who offer a range of different trips to destinations nearby to Morzine, including Chamonix.
Health And Beauty In Morzine
These are all well worth experiencing during your stay in Morzine. They offer something a bit different to the usual action packed trip to the mountains.