Morzine vs. Méribel: Which is the Better Ski Resort?
When it comes to ski resorts, and French ones at that, you'll be hard pushed to find two more popular destinations with British skiers than Méribel and Morzine. And, if you've found your way here, you're probably finding it hard to choose between the two... Sound familiar?
Don't worry, it happens. Plus, if this is the biggest dilemma you're currently facing, I'd like to think you're in a pretty enviable position!
Both are gorgeous French resorts with plenty of brilliant après-ski, and respectively large ski areas to explore – the Trois Vallées for Méribel, and the Portes du Soleil for Morzine.
So, which one's right for you? Let's find out...
First, Consult Your Wallet
If money's no object, Méribel could be right up your street.
It's the home of 5* life in the Alps, with enough top restaurants to keep you fabulously fed for well beyond the a week-long holiday.
You can take your pick from a host of spectacular hotels, and, if you fancy spending your days somewhere other than the slopes, you'll discover an incredible array of high-end fashion in Méribel Village's shops.
If you are restricted by a budget, however, here's what you should do…
Opt for Morzine for a Cheaper Holiday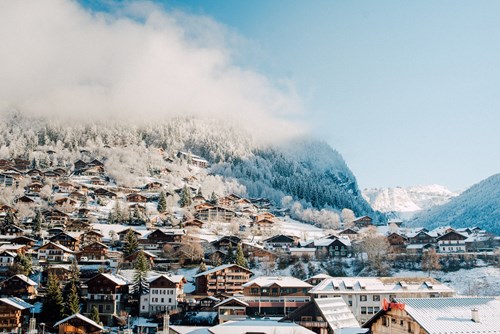 Morzine can offer you a little more bang for your buck, and although you won't exactly be slumming it. The 40€ difference in the cost of a lift pass and more affordable restaurants will add up over the course of the week.
Also, our Self Catered Apartments offer you luxurious surroundings without the extortionate rates.
Of course, who you choose to travel with will determine where a lot of your budget will be spent…
A boozy holiday with your friends will have a very different set of priorities to a half-term trip with the kids. So let's dig a little deeper
Childcare
If you've decided to bring the whole family I can recommend a number of qualified childcarers in Morzine.
One of our former employees, Helen Barnett, is the brains behind Morzine Kids – and she offers full and half day services.
Cheeky Monkeys also offer full and half day care, as well as a kids club, and can also provide babysitting in the evenings – just a few of the reasons I think they're both great!
Alternatively, L'Outa Nursery in the centre of Morzine is a very competitively-priced, French-run daycare centre. There may be a bit more paperwork involved, but it's very popular with the locals, which is always a good sign.
My own son went here so I have first hand experience of how good this place is!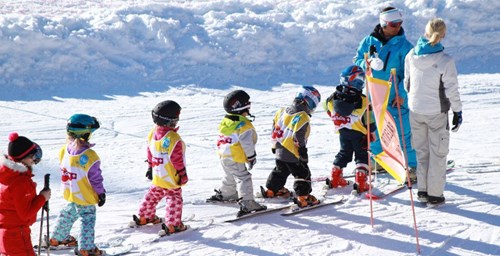 Ski Schools
If your little ones aren't so little any more, there's every chance they'll want to be tearing up the slopes as well – and nothing makes us happier.
The main ski schools in Morzine that get my recommendation are the The Snow School, and the British Alpine Ski School – but there are loads of smaller independent schools as well. You also can't go wrong with Freedom2Ski, Billski, Avoriaz Alpine Ski School or REAL Snowboarding.
Not to say that Méribel doesn't offer the kids something special…
Of course there are more ski schools than you can shake a pole at, including some that I love. If you'll be heading that way, I'd suggest trying New Generation or Parallel Lines.
If you ask me, Morzine is the better option if you're travelling with children.
But, on the other hand, if you're looking for a bit more of a party atmosphere, Méribel offers something a little different.
Which Ski Resort Has the Best Atmosphere?
For most holidaymakers, the town where you'll be spending your late afternoons and evenings is almost as important as the mountain terrain.
Whether it's late-night singing and drinking in a rowdy après bar full of English, or quaint traditional restaurants where you can enjoy a selection of cheese and wines, make sure you choose carefully.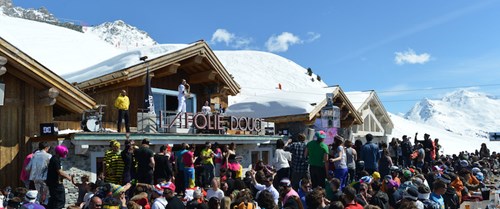 Where's the Best Après?
Morzine is home to several great drinking holes – including Beanies, Haka Bar, Chez Roger, Bar Robinson, Bec Jaune and Dixie Bar, to name but a few.
It also boasts a pretty decent array of options for live music and dancing, with Laury's the pick of the clubs and Le Tremplin best for letting loose under the stars for après in Morzine, especially on Wednesday nights. Also if you are up in Avoriaz, you can experience La Folie Douce.
Méribel, however, is home to two of the finest institutions in the Alps in Le Rond-Point (also known as Ronny's), and their own branch of La Folie Douce. Both are packed to the rafters with Brits in high spirits, and offer something slightly different.
La Folie Douce kicks off between 15:00 and 17:00, and if you can find space, the tables there were made with dancing in mind in both locations.
Ronny's offers over 10 hours of fun every day until 19:30, and hosts the pick of the live bands in town – so be sure to give both a try if Méribel gets your vote.
Which Has More of a Spirit?
Morzine is an authentic French market town, whereas Méribel is a purpose-built ski resort that transforms into a ghost town from late spring until November.
There's no real competition here, I'm afraid, it's Morzine every time for me.
I'm sure you'll agree, if you visit, that the mix of traditional life with a laid back vibe is what all resorts should really aspire to.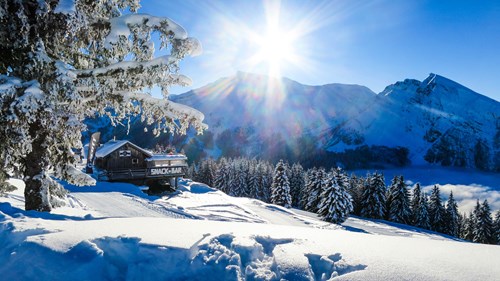 Looking for Authentic Savoie Cuisine?
If local dishes whet your appetite, Morzine, for me, is the place to dine.
Not only is it cheaper, but there are more options, too. In no particular order, I'd suggest visiting:
La Chaudanne – home to a beautiful wine cellar, serving delicious food at good prices
L'Etale – perfect for families or large groups of friends. Fantastic steak, excellent pizzas and a lively atmosphere.
La Grange – traditional Savoyard fare made with locally-sourced ingredients, including amazing raclette, fondue and meat dishes in a cozy setting
Clin d'Oeil – beautiful food served with a smile. Their meat, especially duck, is their speciality and it's well worth a try.
Morzine Has A Life Outside Skiing, Too
As it exists as a genuine town all year-round, there are all sorts of local bars and shops to explore.
For traditional shopping in Morzine, head to the Rue de Bourg for ski and snowboard shops, Slopestyle is particularly good.
There are plenty of other boutiques selling perfumes, beauty products and local Savoyarde fare.
The L'Alpage Cheese Shop is well worth a look next to our catered chalet, Chalet Jirishanca - it has a glass floor and you can see the local fromage being made.
There's also an incredible retro toy shop – La Courterie Corner – that kids (and young-at-heart adults) will fall in love with.
I also highly recommend La Bonbonnière bakery for delicious bread, cakes and sweet delicacies, while Satellite Coffee is a haven for coffee, smoothies and shakes and yummy sandwiches, with a cool hipster vibe.
Now, What About the Snow?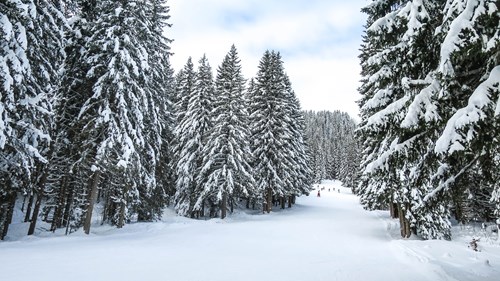 The key difference, in our opinion, is that Méribel, unlike Morzine, is ski-in-ski-out. However, it generally means a higher price tag across the board.
So, take a second to ask yourself: do you really need ski-in-ski-out facilities?
If not, getting onto the mountain from the lower-altitude Morzine village really isn't that difficult. More Mountain can transfer you to the cable car, along with all your equipment, which means you'll never really have to carry your skis anywhere – a massive bonus after a long day.
As I mentioned at the start of this article, when you go to Méribel or Morzine, you don't just go to Méribel or Morzine.
Both resorts are part of huge ski areas, all with modern lift systems that make skiing or snowboarding a breeze.
Skiing in Morzine means you're connected to an incredible 11 other resorts –Avoriaz and Châtel, for starters – across the Portes du Soleil, with over 650km of pistes waiting to be discovered.
Méribel, on the other hand, opens you up to the entire Trois Vallées ski area –including Val Thorens and Courcheval – which also boast a similar amount of skiable terrain.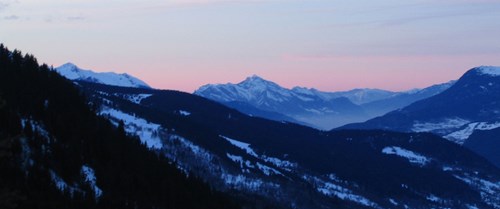 Which is More Snowsure?
Méribel, with a base altitude of 1450-1700m compared to Morzine's 1000m, always has snow at village level.
Where it falls down, however, is that a lot of its pistes fall victim to sun exposure, meaning the snow doesn't last as long.
Morzine has fewer south-facing slopes, so won't suffer as badly on clear days, meaning you'll find plenty of crisp, white slopes to enjoy.
And if Morzine village itself isn't quite as covered as you like, you can always quickly link to Avoriaz within minutes – which has had better snow cover than anywhere in the Alps over the last two years.
Is There Enough Variety for Intermediate Skiers?
In short, yes. Both are great resorts for intermediate skiers, offering access to plenty of fantastic pistes for you to choose from.
Méribel's best options are, in our opinion, La Pointe de la Masse (which you'll find over in Les Menuires) and the Blaireau if you fancy something a little closer to home.
Morzine, offers plenty of high and low slopes across several valleys, but the real treats are the tree-lined pistes of Nyon and Les Gets, which also offer stunning vistas of Mont Blanc.
The cruisey blues and reds on the Avoriaz side are also not to be missed.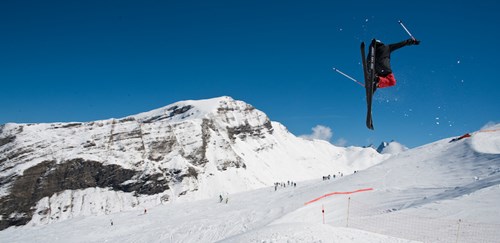 And for the Experts?
In terms of the amount of black runs, it's a close-run thing.
Les Trois Vallées has 32 to the Portes du Soleil's 30, but Morzine is home to the bigger population of pro skiers and riders. This is thanks in no small part to the reputation built up by the notorious Swiss Wall: endless off piste and the excellent snow parks.
Morzine-Avoriaz has a better snowboarding scene, pioneering North American style natural parks like The Burton Stash, useful to know if you've got a mixed group.
Méribel offers loads of complex skiing, however, as well as some challenging, steep off-piste runs on the likes of the Grand Couloir and Saulire.
How Do I Get There?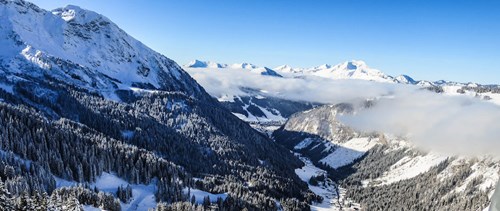 Whether the tales of crazy dancing to Euro-pop in your ski boots have enticed you or terrified you, I'm confident that you've almost made your mind up about who's won the Morzine/Méribel battle…
And if not, I'd be delighted to answer any more questions you might have, just drop me a note at [email protected].
But now, it's time for the practicalities.
Morzine Is Easier to Get To
Just 1¼ hours from Geneva, Morzine makes for a great last-minute getaway. Plus, all More Mountain catered chalets include airport transfers with Skiidy Gonzales, so you'll get there in no time at all.
But Transferring to Méribel is Still Possible, of Course!
Going to Méribel isn't exactly going to the end of the earth. In fact, it's just 3 hours from Geneva, and Ben's Bus will be happy to get you there.
So... Who Wins?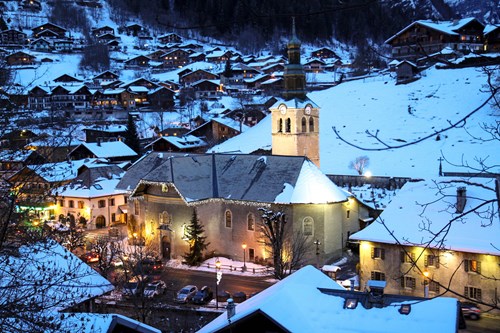 If you've made it this far, I'm sure you've made one clear realisation – it depends what you're looking for.
For me, it really comes down to extravagance vs. good value.
Morzine is undeniably a town full of character, whereas Méribel is something of a holiday factory, but there are plenty of reasons why both are so popular.
If you'd like to book, or have any questions, I'm always happy to talk. Simply get in touch with me at [email protected] and I'll do whatever I can to get you on the right path.