Why Morzine Is the Perfect Winter Holiday Destination for Families
For most busy families, a winter holiday represents a precious opportunity to relax and spend quality time together without the day to day distractions of daily life. And it all starts with finding that perfect destination to create those treasured memories.
But with so much information out there and so little time to research, as well as the responsibility of juggling all the different needs of the family and making sure everyone's 100% happy - it's no surprise that the perfect family resort can be somewhat elusive.
Well the good news is that we're here to help. Here you'll find our comprehensive guide to Why Morzine is the Perfect Winter Holiday Destination for Families, pulled together from our experience of hosting family holidays in Morzine for 13 years and our own experience of raising our young son in Morzine.
So if you want to find out:
What makes Morzine so great for families
Ideas for what to do with young kids in Morzine
The best ski schools for kids
Family friendly ski runs
The best mountain restaurants for families
And more!
Then we've got you covered. Read on to find out more...
An Authentic Mountain Experience
Located in the Northern French Alps and part of the Portes du Soleil ski area, Morzine offers the best of both worlds. It's a big town with a friendly village feel. There's no purpose built tower blocks here. Think charming traditional buildings and incredible Alpine scenes, with a bustling village full of fantastic restaurants and cosy cafés.
Many locals have lived in Morzine for generations, and there's now a large expat community who live here all year round. Having myself lived in Morzine for over 10 years, I value the town's great sense of community. This provides a more authentic mountain experience – a great plus for families, and one of the many reasons why families come back year after year.
Getting to Morzine is Quick and Easy
The nearest airport to Morzine is Geneva, great links to the UK and other European cities via traditional and low-cost airlines. After a short flight, Morzine is only a 75 minute drive away from Geneva Airport on decent roads, meaning shorter transfer times and less stress - a vital consideration when travelling with children. A short transfer also means you can maximise your time in resort and squeeze in a few extra hot chocolates before you head home!
An Award Winning Resort
With the first ski lift being created in 1934, Morzine is a resort over 80 years in the making. It has lots of experience in knowing what visitors want from a holiday destination, and making sure that families have everything they could possibly need.
Morzine has 'Famille Plus' status, awarded for providing top quality facilities and activities for families with children. So you know you'll be well catered for. The resort also ticked quite a few wishes for the Telegraph Newspaper. It was given 5 out of 5 for families in their Ski Resort Review of 2016.
Quality Accommodation
Accommodation is so important for families as it sets the tone of the whole holiday. Standards are very high in Morzine for both catered and self-catered accommodation and you can expect plenty of choice in the centre of the village.
At More Mountain you can expect to find places with a strong focus on attention to detail, cleanliness and stylish alpine living. As well as child-friendly facilities such as travel cots, buggies, high-chairs and kids cutlery.
Plenty of Childcare Options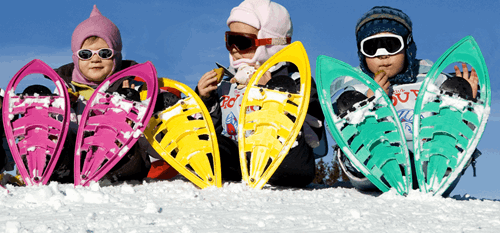 There's a good local creche L'Outa Nursery which welcomes children from 3 months to 5 years. My own son went to this nursery for 2 years and the people who run it are amazing.
Private nannies are also available. I personally love Helen at Morzine Kids, as she has looked after my little one with smiles every minute and every hour. Cheeky Monkeys is another great option for childcare along with babysitting and we know and trust the owner, Sharon, well.
You can find more details about childcare options in Morzine on our childcare page.
A Wonderful Ski Experience
Having enough skiing to please all the family is one thing that can make or break a successful ski holiday. So whether you need gentle beginner slopes for newbies, or advanced terrain for seasoned shredders, there really is something to keep everyone entertained in Morzine and the surrounding ski area.
The terrain is also family friendly as it's not too high with windswept icy pistes, which can quickly lead to cold fingers and toes. Think wide tree-lined runs with views of Mont Blanc and sunny pistes just perfect for whizzing down!
The mountains create a perfect outdoor playground for all the family and as children grow older they can continue to enjoy this area. When they become more accomplished skiers, Morzine will give them the key to unlocking other parts of the vast Portes du Soleil ski area, covering France & Switzerland with over 650km of piste.
Mountain Fun for Little Ones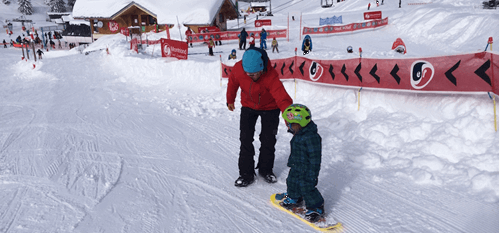 If your little ones are under 3 years old, you don't need ski school. Instead, you can hire plastic skis to strap on to snow boots at Action Sports or Felix Ski at the base of the Pleney. They are great for first time sliding on the snow in the hands of Mummy and Daddy!
This is also a fabulous sledging spot where you can grab a hot chocolate with lashings of chantilly cream whilst you watch your little ones have their first adrenaline fix!
If you fancy the dark side for your nippers - snowboards with pull around leashes can also be hired from JP at Slopestyle. He has 2 of his own little nippers that have been boarding since the year dot so he "gets it". Ask him for advice on the Burton Riglet first set ups for toddlers, to allow them to whizz down the slope for the first time with ease.
Special Runs Designed for Kids
This area thinks of everything, by designing great runs and areas specifically for kids. There will be some fantastic photo opportunities, so don't miss these out.
Little Indian Run in Les Gets at Chavannes and there's a handy restaurant at the top!
Burton Riglet Park in Avoriaz.
Animal Adventure Piste on the Pleney B slope.
Child-Friendly Ski and Snowboard Schools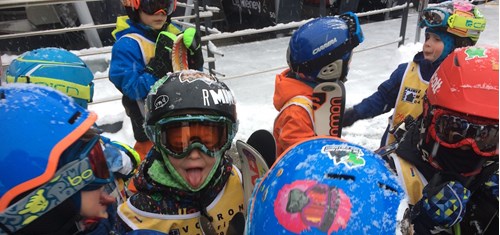 I can't stress this enough, the ski schools in Morzine have a brilliant reputation - you will be in very safe hands.
The Piou Piou Club offers childcare and an introduction to skiing for 3-5 year olds. Run by ESF (Ecole du Ski Français) where children can then progress into classes for 6 -14 year olds and then on to teenager and adult lessons.
Billski - - The pink gorilla! Billy is the friendliest ski instructor on the mountain and a great hit with the kids. He taught my little boy to ski and now he thinks Billy is the best thing since sliced bread!
MINT
If boarding is more your style, MINT have a mini-shred course for kids as young as 3 - my 4 year old has learnt with these guys.
You can find more of our recommended ski and snowboard schools here.
Family-friendly lunch spots
There is nothing better than taking a well earned break and enjoying an alpine lunch with the whole family. Whether you want to cosy up by a fire or chill out on a sun soaked terrace, you will be spoilt for choice. There's a whopping 90 restaurants to choose from in the Portes du Soleil area.
If you have non-skiers or young children in your group, here's our recommendations for mountain restaurants that are easily accessible for non-skiers.
If you're all keen skiers and looking to grab a bite to eat or a quick hot chocolate on the go, here's our favourite mountain pit-stops in the ski area.
A Bustling Village


Morzine has everything you need for a baby or toddler friendly family holiday. The supermarkets are easily accessible, so if you need to dash out for nappies or baby food, you don't need to worry. There are also lots of child friendly cafés and bars with baby changing facilities.
The town centre has a beautiful traditional carousel and ice-rink, just perfect for making family holiday memories together. And overall there is a real focus on kids in Morzine, with lots of tailor made activities for all ages. The Tourist Office even have their own downloadable brochure so you won't miss out on any special events.
Activities to Enjoy as a Family
Morzine offers a wide variety of activities for the non skier to experience. Enjoy the many shops selling unique gifts, people watch in the friendly cafés, unwind in a spa or feel relaxed after a yoga session. Then for adrenaline seekers, there's snowmobiling and parapenting.
Creating memories and enjoying new experiences together is a key part of a memorable family holiday. After a day on the pistes or on a ski-free day, it's good to know that there are so many brilliant things to do with all the family. Firm favourites include sledging, ice skating, swimming and husky sledding, to name but a few.
Or take an atmospheric horse-drawn carriage through the old town of Morzine to really feel the alpine charm!
Mum and Dad Time
It's important and there's no reason why parents can't have some time to themselves. Why not hire a babysitter for the evening and savour some delicious food in a fancy restaurant, enjoy apéros in a sophisticated bar. Or if you prefer to stay in then why not book a place with a hot tub to relax in and count the stars?
Eat, Drink and Be Merry
Morzine offers a vast array of bars and restaurants to explore and enjoy. Think – traditional meets contemporary and convivial mixes with sophisticated.
There are restaurants with early sittings before 7pm so you can feed your hungry little ones. At More Mountain, we also offer an option for Meals on Wheels in our self catered apartments, so you can enjoy your accommodation without being stuck in the kitchen.
Alternatively why not try a catered chalet option? Our friendly chalet staff serve hearty, wholesome and healthy meals while you kick back and relax.
Are you ready to create your Perfect Family Ski Holiday?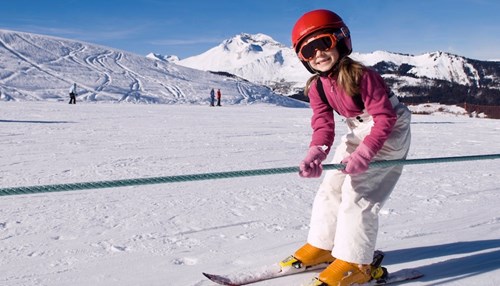 The best family winter holidays are all about balance and considering the needs of everyone. You need to research and plan at the beginning, then all you have to do is enjoy the fun-packed holiday you deserve, filled with memories to treasure.
My advice would be to make your search as simple as possible. Compile a wishlist of what you need from your perfect family ski holiday destination. Now look for somewhere that ticks as many of those wishes as possible. But I'm sure you'll agree that after reading this article, you need look no further than Morzine!
If you're ready to get the ball rolling for your next winter holiday, just fill in some details here and we'll get the planning process started.
It's always worth enlisting the services of those who are passionate about the area and can offer local knowledge to help you in every aspect of your trip, to help save you so much time and effort during the planning of your holiday.
We hope to see you and your family in Morzine soon!