Night Sledging in Morzine is Awesome!
What can you do if a full day on the slopes of the Portes du Soleil isn't enough to satisfy your inner adrenaline junkie?
Simple - go night sledging in Morzine! BOOK it here with Indiana Aventures.
That is exactly what the More Mountain crew did last Wednesday as part of our mid-season staff night out. After a few pre "luge nocturne" beers at Le Tremplin Hotel to calm any nerves, we headed up the newly re-furbished Pleney lift armed with a sledge in one hand and a head torch in the other!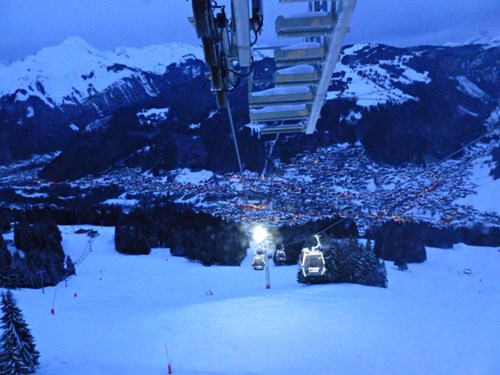 The night sledging route is basically the blue graded Piste B that runs from the top to the bottom of the Pleney Telecabine. It meanders through the forest and is considered a mellow ski run. However, it certainly doesn't seem so chilled when you are careering down it in the dark on a flimsy plastic sledge with only a small metal lever on each side for braking and steering.

After a short safety chat at the top we set off for the first section of the descent. It turns out that the sledge's steering is incredibly sensitive which led to the 30+ participants initially performing some very erratic turning, narrowly avoiding crashing into each other & generally spinning out of control!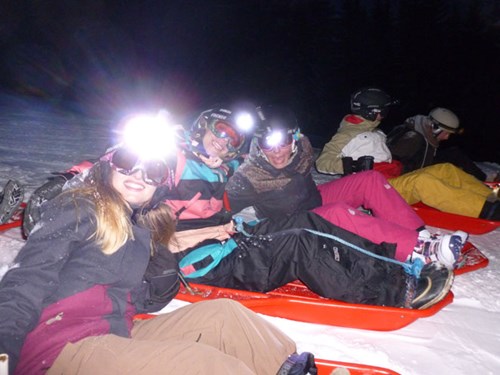 Soon enough we got the hang of steering and as we tackled each section of the slope our control (and also speed!) increased. Screams were replaced with whoops and giggling as people moved from fear to joy.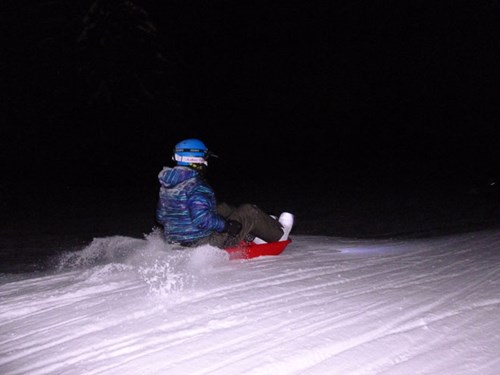 Chalet Host Phil was smart enough to set Ski Tracks running on his phone before setting off and clocked a top speed of 32 mph – pretty rapid! In fact, our group was so quick we caught up and overtook a group who had set off before us!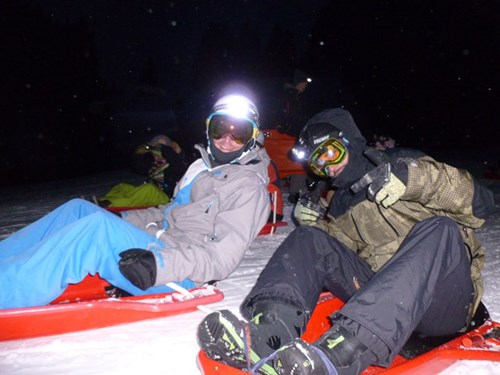 The bottom of Piste B delivers you straight back to Le Tremplin where we cast off our sledge paraphernalia and headed into the melee of revellers for more drinks – this time to celebrate that we had all made it down alive and had a blast whilst doing so!