What is it like to do the Spartan Race in Morzine?
The Spartan Race is a gruelling obstacle race that offers different courses for different levels of fitness. The Spartan Race has taken place in Morzine during the summer for a few years now and sees thousands of people from all over the world take on the challenge.
There are three different courses to choose from:
SPRINT - 5km:
The Sprint tests your speed through 5km featuring 20 Obstacles. This is a good one for beginners, or as perfect test against time for the more advanced racer.
SUPER - 10km:
The Super is a mental and a physical challenge. This course takes you over 10km while negotiating 25 obstacles.
BEAST - Half Marathon:
The Beast is the most difficult, covering the distance of a half marathon. This is the longest race out of the three and its name very apt, as racers need to tackle 30 Obstacles along the way.
These sound pretty tough, but when you think about the fact that these courses have you running up and down mountains and through the river, you get an idea of how difficult they are.
The Obstacles

Throughout the Spartan Race you come up against lots of things to climb over. Depending on which race you enter, you are expected to climb over huge A frames, climbing frames, scramble nets and up ropes. There are lots of things to carry too. From atlas balls, sand bags, a REALLY heavy chain and a bucket of gravel.
The most common obstacles are ones that you have to jump or climb over. There are lots of bars and walls that you need to get over all the way along the course. Some have ropes to "help" you, but some require you to have a bit of bounce to get up and over.
Having some upper body strength will help anyone competing in the Spartan Race. This is because there are lots of monkey bar type obstacles all the way round.
One thing that is worth mentioning at this point, is that if you fail any of the obstacles, you need to do 30 BURPEES as a forfeit! Oh…..and you are wet for most of it, as you also spend a lot of time in the river.
What is the Spartan Race like to do?
Every year, I have managed to watch parts of the Spartan Race in between checking in guests in to our apartments. But in 2019 I got the opportunity to enter.
The Start Line
The start line is right under the suspension bridge in Morzine, and as I looked down from the bridge, I could see thousands of people. They were either watching, warming up or starting their race. This is the first time I actually started to feel nervous, thinking about what I was going to come up against.
The main reason for the nerves, was that I started thinking that I had never climbed over a 9 foot wall, climbed a rope or jumped over high fences. Why would I have done these things? I'm not a burglar!
Luckily, the night before the race I decided that I should check out some YouTube videos to see if there were any techniques that I should use to negotiate the obstacles. This proved to be very useful.
To get to the start line, you have to climb over a fence. This went went well, as I got over it first time without breaking an ankle! So I started to feel more confident.
It was great to see a few of of the More Mountain team at the start line to give me some encouragement. This was a huge help for the nerves.
The atmosphere at the start line is fantastic. Loud energising music is blaring out of speakers, revving everyone up. Before you start, a couple of trainers go through an extensive warm up routine, which is definitely needed.
After the warm up, the music becomes more dramatic and the trainers hype you up even more. They scream the iconic line from the film 300 (in French).
"SPARTANS! QUELLE EST VOTRE PROFESSION!!!?"
All the competitors reply in style with "AWOO AWOO AWOO!".
Then the race starts with a couple of hundred people sprinting in to the race along the Parc Des Dereches.
The Race

Once I got got going all the nerves went and I settled in to the job in hand. It was difficult to get in to a flow to start off with, as there was a bit of a bottle neck for the first few obstacles. But after climbing over and ducking under a few walls, the pack started to spread out, allowing me to go at my own pace.
Wading across the river, climbing up the banks of the river Dranse and scrambling under barbed wire, was all OK. It started getting tricky when we had to carry the atlas balls, heavy sand bags the buckets of gravel. But you just have to get on with it and try to avoid dropping anything to ensure you don't have to do the dreaded burpees.
My biggest problem, was the overhead obstacles. These are when you have to swing from bar to bar or rope to rope. I found that I didn't have the grip strength of the regular gym goers that make up a lot of Spartans. This meant, that in total I ended up doing 150 burpees! There are people doing the race shirtless, showing off their abs and shoulder muscles all the way round. I made sure my shirt stayed on, safe in the knowledge I can do aprés ski better than these guys.
However, a big advantage I had, was my local knowledge. I realised that the hike up Pleney was coming up, so I took it easy on the approach, letting some shirtless Italians get ahead of me. But, as soon as the ascent started I noticed that they were struggling.
Having spent the winter split boarding and the inter season hiking, my up hill fitness allowed me to make up some places, which gave me a mental boost and changed my whole mindset. Before this, I was just going to be happy finishing, but now I wanted to smash it!
I pushed on, sped up and really started to enjoy the race. My new found determination helped me tackle obstacles better and faster.
The Chain

As I approached the Nyon carpark, I could see other Spartans coming towards me covered in mud, with pained expressions on their faces and shaking their heads. This got me a bit concerned about what was coming up.
There were a number of large mesh containers full of metal chains with huge links. We had to lift the chain out of a container and carry it around a course. This took us across the river, up a bank and back again.
The chain was very very heavy and a very awkward length. I managed to get it in to a reasonably comfortable position on my shoulders before making my way across the river. The bank was nearly knee deep in thick mud, that sucked off your shoes.
Unfortunately, I went off balance and dropped my chain in the mud at the top of the bank next to a few abandoned chains. But I really didn't want to get that far and have to do another 30 burpees. I managed to drag my chain out of the mud and down the bank. My plan was to rinse the mud off in the river to make it a bit lighter before continuing.
By washing a few grams of mud off my chain, I managed to put it back on my shoulders and follow the course. The course included some concrete hurdles to climb over, before dropping the chain back in to the containers.
Heading To The Finish Line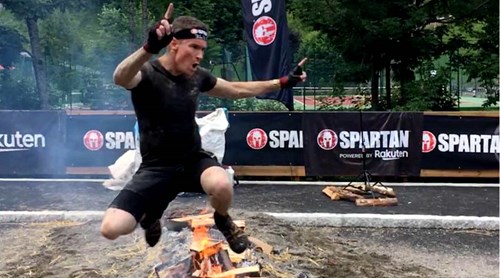 I came to the conclusion that the chain was going to be the worst part, so all I had to do was keep pushing on to the finish line.
On the run back towards the centre of Morzine, there was a lot jumping over hurdles and climbing over more walls, with the odd scramble net for good measure. But, this was relatively easy compared to what the rest of the course had thrown at me.
The final section brings Spartans in front of the Palais du Sport. This section had some huge walls to climb over with the help of a rope, but there was also a huge frame with monkey bars and ropes.
Unfortunately, I didn't do a good job of this and had to do my final set of 30 burpees. But this time I had an audience and one of my "mates" spent the whole time criticising my form.
The last obstacle was a large A frame. From the top, I had a huge feeling of achievement as I could see a line of flames across the course. This fire pit was the finish line, and it was a glorious sight!
The final sprint to the fire pit with my friends cheering me on was fantastic. I had enough left in the tank for a little jump over the line.
Should You Do The Morzine Spartan Race?
If you want a challenge to make sure you reach your fitness goals, a feeling of achievement or just some fun, the Spartan Race is a great event. It is certainly a different way to see this beautiful place and experience it in a unique way.
It is amazing what you can do when faced with a challenge that you have never experienced before. When you are standing in front of a climbing wall with an overhang, or you are at the bottom of a rope that you need to climb, you just have to get on with it, and it and somehow you manage. That first sip of beer while proudly sporting your medal is a great feeling too.
In 2019, I entered the Super, but for 2020, I have entered the Beast. This will be much harder, but I am really looking forward to it. The Beast adds on a climb to the top of Nyon and over an A frame built on the top!
Are You Going To Take On The Spartan Race In Morzine?
If you fancy joining in the fun, More Mountain have created a special long weekend package for Spartan Race 2020. This is a 4 night stay in our brand new luxury catered chalet, Le Stade, and is only £399 for 4 nights. This chalet is located right in the centre of town and has not one, but two hot tubs that will soothe those aching muscles after your race.
Alternatively, you could stay in one of our fantastic self catered properties for the week or just for the weekend.
Top Tips For The Spartan Race
- Train - The Spartan Race isn't one you can just blag. There are the 3 different races to choose from, but don't get too ambitious by choosing a difficult one if you don't plan on training for it.
- Wear Gloves - I wore some good quality gym gloves. These saved my hands from the ropes, bars and when I had to fill my bucket with gravel by hand.
- Wear grippy shoes - Ideally, you need something more grippy than standard trainers, but you don't want anything as stiff as hiking boots. The best thing to wear is trail running shoes.
- Don't wear baggy clothes - Unless you are willing to risk scraping your body going shirtless, wear reasonably tight fitting technical clothes. You don't want to have your t-shirt and shorts flapping around or soaking up the water, making it a miserable experience. Techy clothing will dry off quicker and will stretch so your movement isn't restricted.
- Stretch - Before I left home, I made sure that I did a lot of stretching. I also had a session on the foam roller to loosen everything up. This made a big difference to how my body coped with all the jumping and climbing.