Catered Chalet Food In Winter
We pride ourselves on the quality of our food in our fully catered chalets in winter. Our catered chalet menu is prepared lovingly by your hosts daily from scratch, using fresh local and seasonal ingredients to create wholesome, hearty home cooked dishes with a quality gastro style twist.
We love food and are passionate about it. It's one of our strengths but we don't shout about it as we are not trying to be "fine dining". Our guests do, however, absolutely LOVE it and rave about it! ♥️
Our food is well-balanced, made from good ingredients and extremely tasty and stylishly presented, guaranteed to satisfy the hungriest. At the end of a day, there is nothing better than a good glass of wine thrust into your hand in front of the fire followed by a cracking home cooked meal with good banter!
Evening meals are three courses followed by a local cheese board (if you can fit it in!) and coffee and chocolates. Our meals are served with a selection of delicious handpicked bottled wine, mainly French unless we find something we cant resist! However, if wine isn't your thing we are more than happy to offer you beers instead.
Plus we can also cater for most dietary requirements with prior notice so please feel free to ask. Gluten Free, Nut Free and Dairy Free requests are common for us to deal with at More Mountain so don't panic.
Four Course Gastro Style Meals
Example Menu

Individual Spinach, Herb and Feta Tartlette with a Rocket Salad and Warm Balsamic Reduction
Supreme of Duck Breast with a Warm Beetroot Puree, Steamed Greens and Baby Roast Potatoes
Home Made Sticky Toffee Date & Walnut Pudding with a Salted Caramel Sauce and Fresh Pouring Cream
Selection of Local Cheeses
Coffee & Chocolates

It's All about the Ambience
All our chalets feature stylish dining areas where you can sit down to some cool tunes with your friends and family and chat about the days events. We don't rush you off the table. Take your time. Dinner is served with good quality wine or beer throughout the meal, however, once its finished, you can help yourself to the honesty bar if you still fancy a wee tipple. Our home made toffee vodka tends to go down a treat at this point!
If you have any special requests for birthdays, special occasions or you simply want to arrange a party night, please contact us for more info. We will be happy to organise any extras.
Anyone for Kir and Canapés?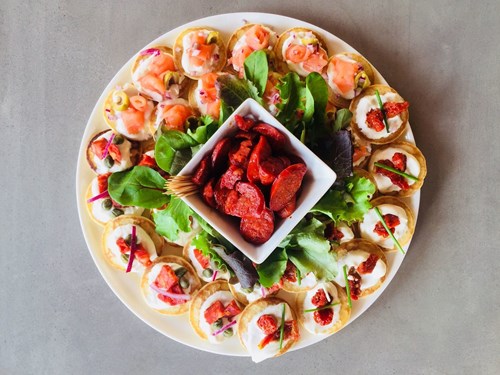 We will welcome you on arrival with a selection of canapés and nibbles in front of the fire, with a glass of Kir Royale to ease you into the mountain spirit!
Following this you can enjoy a beer, wine or soft drink from our honesty bar which is restocked daily.
As long as you arrive before 9 p.m, you will be served an evening meal, alternatively a light supper will be provided if you are going to be later.
Please note: On your two staff days off, we will be more than happy to recommend and pre-book a great local restaurant on your behalf.
Cooked Breakfasts & Fresh Croissants


Cooked breakfast is usually served at an agreed time, however, we also have a selection of cereals, home made muesli, sliced ham & cheese, fresh fruit, yoghurts, fresh crusty french bread with jams and soft cheese and unlimited coffee and tea. Plus of course… the snow report!¹
Cakes, Cakes and More Cakes
After a hard day's riding head back to the chalet for some freshly-baked cake, cookies or flapjacks.
Unlimited tea, coffee and cordials are available all day long as well as a bottomless biscuit barrel. All our chalets feature Nespresso Coffee Machines and Yorkshire Tea - because we like it!
Kids Food
We like to understand what your kids would like to eat, after all its their holiday too and if they are happy you are happy! If you would like us to offer a separate early kids supper we can. We usually tone down the strong flavours of our adult meals and replace with the following kids classics with a healthy homemade twist:
Home Made Chicken Goujons, Wedges & Greens
Make your own pizza (cheese, tomato and ham, plus any veggies they might like)
Spaghetti Bolognese & Grated Cheese
Chicken & Vegetable Pasta Bake
Sausage & Mash & Greens
Creamy Salmon & Vegetable Pasta
Crudites (Cucumber & Carrot Sticks & Cherry Tomatoes)
We also offer a simplified version of our adult menu so you can all eat together on an evening. It's entirely up to you.
---
¹ On staff days off, fresh bread & a selection of pastries are delivered from the local bakery – a hearty continental breakfast will be set up and prepared for your convenience the night before.