Parking, Taxis and Buses in Morzine
All you need to know about parking, taxis and buses in Morzine for getting around town and to the slopes in Winter.
Parking in Morzine
If you are planning to drive to Morzine this winter all of our properties have parking available. We have a great blog about driving to Morzine full of guidance and tips.

Morzine Tourist Office has a guide to all the parking in Morzine. You can book daily or weekly parking on the website. 
If you want to park in the town centre, there are different zones with different rules.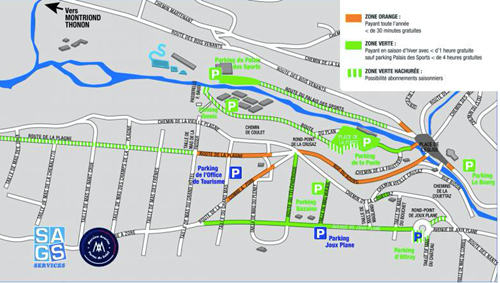 ORANGE Zones: First 30 minutes are free all year round, then you must pay using the App* or the coin machines.
GREEN Zones: First hour is free during the winter season, then you must pay using the App* or the coin machines, EXCEPT in the Palais du Sport zone, where the first 4 hours are free.
GREEN & WHITE Zones: Season-long parking permits are available in these areas for season workers and residents.
*You can pay at the parking meters or via the OPnGO App for iOS.
Taxis
All taxis should be pre-booked, the sooner the better, especially for Tuesday and Friday afternoon/evening when chalet staff are off.
Getaway Cabs 0033 641 392 887
Sun-Fri 6pm till 2am.
Taxi Morzine 0033 677 411 664
7am till 10pm & 7 days a week. Available for restaurant runs on Tuesday and Friday.
Mountain Bus Company 0033 682 888 550
6pm till 2am - Monday to Friday (must make your booking before 10am).
Last Van Standing 0033 785 956 508
7 days a week - Can also do morning, afternoon & evening slope drop offs & pick-ups.
Action Cabs 0033 615 740 043
6pm till 12am.
Ski Transfers 0033 450 044 976
All day, everyday. Slope transfers, shopping, medical centre trips etc.
A2Ski - Richard 0033 646 899 611
Monday- Thursday 6pm - 2am and Fri - Sun 6pm - 12pm.
Morzine Bus 0033 631 399 931
13 & 8 seater buses available for slope and restaurant runs.
Morzine Link 0033 640 924 619
Slope and restaurant runs.
Morzine and Back Transfers
Slope and restaurant runs.
Arnaud Landais 0033 608 489 664
French & English Speaking & Licensed Taxi.
Free Bus Service around the Resort
Regular free shuttle bus services run around resort every 10 mins and drop off at the Pleney Telecabine, Prodain Telecabine, Nyon Telecabine, Super Morzine Telecabine, Ardent Telecabine and Lac Montriond/ Vallee de la Manche (for walking).
You can also get the routes and pick up a timetable in the tourist office.
A Bus takes you from Morzine up to the Les Prodains Express Lift which takes you directly into Avoriaz.
The bus runs from 08:30, then every 10 minutes until 18:00. Between 11:00 and 14:00 it runs every 15mins. After 18:00 there is one bus an hour, the last bus back from Prodains to Morzine is 21:05.
D Bus is a local bus that runs every 30 minutes throughout the day from 08:00 to 19:30. It drops off at the Pleney or you can change buses at Rond Point de la Mouille au Clerc to pick up any of the other routes.
U Bus drops off at the Tourist Office and the Pleney and runs every 20-30 mins through the day from 07:45 to 19:30.
P Bus drops off at the Tourist Office and the Pleney and runs every 20-30 mins through the day from 08:10 to 18:20.
N Bus serves the Nyon telecabine, also doing a loop around town and dropping off at the Pleney. It runs every 25 minutes from 08:35 to 17:30 and stops over lunch.
E Bus runs up the Valley de la Manche (a lovely area for walks and snow shoeing). It runs once an hour (stops for lunch) from 08:40 - 19:15.
The Petit Train runs continuously between the Super Morzine and Pleney Telecabine from 08:45 to 17:30.
M Bus serves Lac de Montriond and the Ardent telecabine (access to the Lindarets Bowl in Avoriaz). It runs every 30 minutes between 08:15 and 18:00.