10 Ways to Get Wet in Morzine
Morzine is a natural playground nestled in the French Alps, just a short drive from Geneva. During the summer it is known for its excellent mountain biking and hiking trails. But we have more than just perfect dusty trails carved on to the side of a mountain. Sometimes during your visit, you may want to cool down with some watersports, so here are 10 ways to get wet in Morzine.
1. Stand Up Paddle Boarding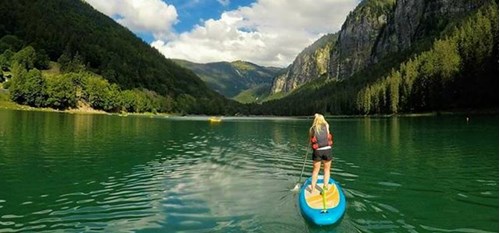 Lake Montriond is frozen over during the winter, but come summer, its mirrored clear water is perfect for water sports. One of the activities you can do is stand up paddle boarding. Because the lake is so sheltered by the surrounding cliffs and mountains, the water is really flat and calm. This means that it is an ideal place to try SUP-ing. It is great exercise especially for your core muscles. Keep an eye open for paddle board yoga sessions for an extra challenge. The backdrop is pretty stunning too.
2. Kayaking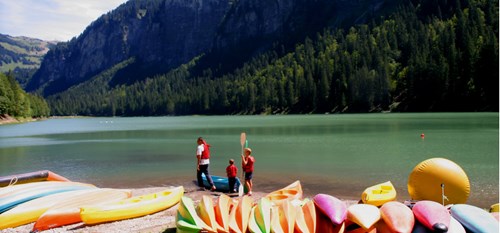 You can also hire kayaks at the lake. Take a tranquil paddle, while taking in the amazing views. Both stand up paddle boarding and kayaking are suitable for kids. Just turn up and hire them on the day.
3. Lake Swimming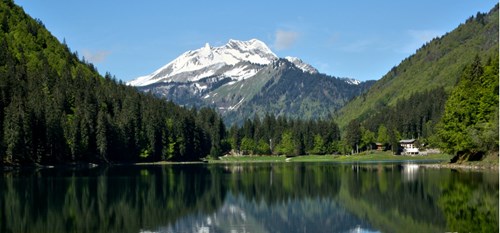 Swimming in the lake is free. There are buoys set out for you to do a circuit if you wish. If you are expecting to do a few laps i.e. doing a training swim, you may want to bring a wetsuit. It is pretty chilly, especially at the start of the summer, before the lake has had chance to warm up.
4. Canyoning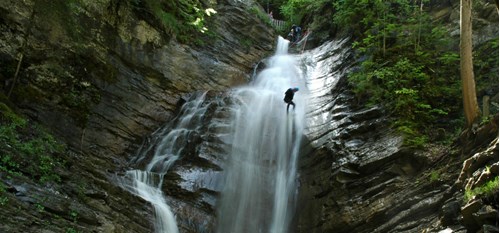 Our friends at Frogs Rafting will take you on a trip down the river with a difference. Canyoning is exploring the river while jumping and abseiling off waterfalls and cliffs. Following the natural course of the water, a guide will take you to places rarely seen by human eyes. Make sure you have a head for heights and you are ok with jumping off things. Frogs provide all the safety equipment and nice thick wetsuits, along with transport to and from the canyon.
5. White Water Rafting and Hydrospeeding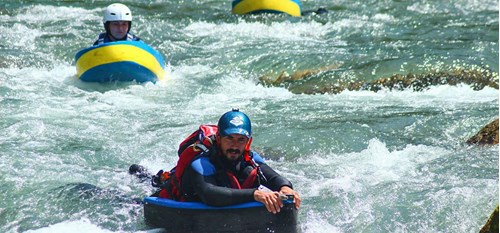 Rafting is a must during the summer in Morzine. Frogs Rafting guide you and seven others in your raft down the river Dranse. This is the river that flows through Morzine, but you will put your boat in the water just a short drive down stream. The trips take around two and a half hours, stopping occasionally for optional cliff jumps and checking out the wildlife.
Hydrospeeding is when you follow the flow of the river. Also known as white water sledges, the hydrospeed is a foam float shaped so you can fit the top of your body in to it. It enables you to ride the river while smashing through the white water. You are kitted out with a thick reinforced wetsuit and safety equipment, have a lesson on how to pilot your craft, then shoot the rapids. This is available to people over 14 years old.
6. Parc des Dérêches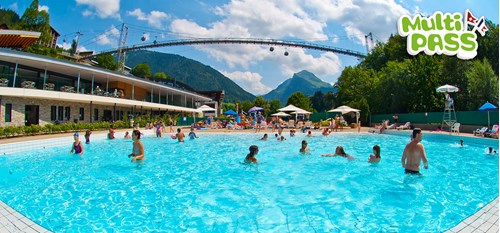 You don't need to go to a river or lake to get wet in Morzine. We have a great swimming complex right in the centre of town. Located at the bottom of the valley next to the ice rink, there is an outdoor olympic sized swimming pool. The large area around the pool is great for a spot of sunbathing and and beach volleyball. There is also a water slide, bouncy castle and a kiddies area. Inside you will find another large pool with a spa section with Turkish baths and a kiddies pool.
Just one thing....gents need to wear budgie smugglers or they will not be allowed in. If you forget, you can buy them from the vending machine. If you want to use the pool this summer, it is well worth buying a Multi-Pass. This gives you over 50 free and discounted activities to do for €2 per day!
7. Fishing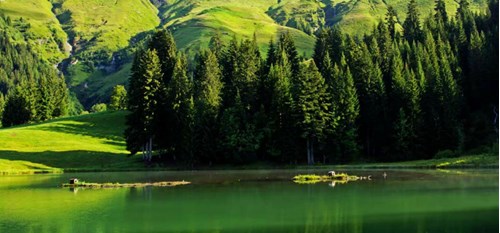 Slip in to your rubber trousers and wade in to one of the many rivers and lakes around Morzine. For tips about where to catch some rainbow trout, have a look at this blog. If you fancy a fish for the barbecue without the need to drown some maggots yourself, you can visit the trout farm. This is a short drive towards Prodains from Morzine, in the Ardoisières valley. They catch and prepare the fish for you, so it is all ready for the grill when you get back to your apartment.
8. Aquariaz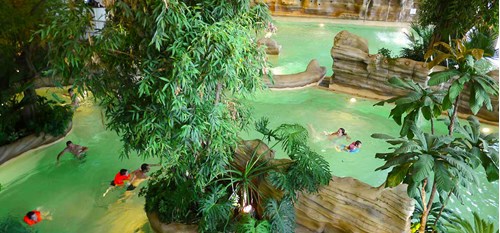 Did you know Avoriaz has a tropical jungle? Aquariaz is a water park with a lazy river, kiddies area and a big water slide. This is great for those rainy days or for when you fancy something a bit different. The other advantage of Aquariaz is that guys can wear normal swimming shorts!
9. Waterfalls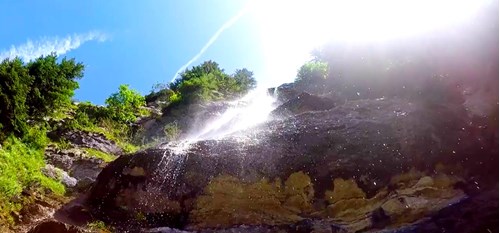 There are lots of waterfalls around Morzine. The cascade de Nyon, Cascade se Ardent and Brocheaux are just a few easily accessible by hiking, driving or just getting on a few chairlifts. But if you have a car and an enthusiasm for waterfalls, you need to go to Sixt Fer à Cheval. This is a 45 minute scenic drive away to a stunning area of natural beauty. You can take a hike to a collection of waterfalls in a huge horseshoe shaped valley. There are guided tours and pony treks to get the most out of your day out too.
10. Hot tubs
All of our catered chalets have a hot tub and so do some of our self catered properties. They are a great way to soothe those legs after a big hike or ride around the mountains. Grab yourself a beer from your chalet's honesty bar and relax, before dinner.
Easy to get soggy
So Morzine is great for water sports during the summer. But these are just a few of the many things on offer during a summer holiday in Morzine. If any of these appeal to you, have a look at availability in our fantastic self-catered chalets and apartments.
By Tom Fortune