Swimming, Kayaking, White Water Rafting, Canyoning, Mountain Biking, Hiking... There's loads to do in Morzine during the summer - if you're a family group or crazy adrenaline junkies there is someone for everyone.
During the summer there are loads of well-organised and professionally guided outdoor activities in Morzine, ideal for families and adrenaline junkies alike.
We have a number of great guides for you to look at which give you the lowdown on Summer in the Alps here:
We also recommend you have a chat to the Bureau Des Guides in Morzine who can point you in the direction of a qualified instructor locally for any of the activities. More Mountain can also help you arrange all summer activities listed below:
Whitewater Rafting
There are two possible locations for white water rafting and hydrospeeding (river-sledging) in the glorious melt water rivers around Morzine. There are a couple of good companies, however, we highly recommend Frog Rafting for your trips down the river for a fun and professional day out! Check out our blog post about when we went rafting with Frogs.
Hiking for Everyone including Families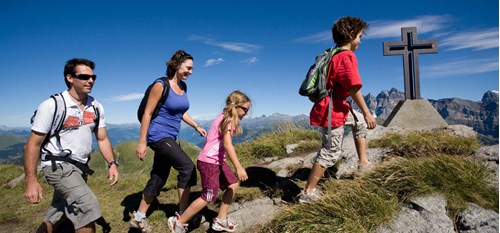 There are unlimited hiking possibilities in the mountains surrounding Morzine. Routes range from easy, relaxed strolls to more difficult alpine routes but the scenery is always fantastic. There are also some great walks that can be done as a family with lift assistance which makes it all the more exciting!
Morzine Tourist Office produces this walking guide that highlights some of the most popular routes.
Check out the famous Goat Village at Linderets Bowl and also ride the chairlifts here after a splash in the river. From Linderets you can easily access Avoriaz and Chatel on the chairlifts - its great fun coming down, we have our very own roller coasters!
Also spend a relaxing day walking round Lac Montriond. There is a great play park here for the kids, plus kayaks, paddleboards and restaurants to keep you all entertained.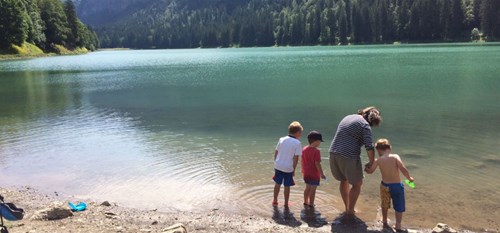 Family Mountain Biking & Bike Hire plus Guided Walks
We love Guillaume at Activities Morzine for family trips out with a local guide. Brilliant for Mountain Biking first timers, and bike hire can be included for the day, plus family guided hikes with overnight stays in a refuge are all on the list of things to do at Activities Morzine. Click here for more details and speak to Guillaume direct. He speaks perfect English!
Paragliding
Launching from the heights of Avoriaz with a fully qualified instructor, the pilot will fly with you in tandem before landing gently at the base of the Pleney slope allowing you to enjoy the mountain views and ride high on the adrenalin. It's more gentle than you would expect, even your granny can do this!
Tree Top Adventure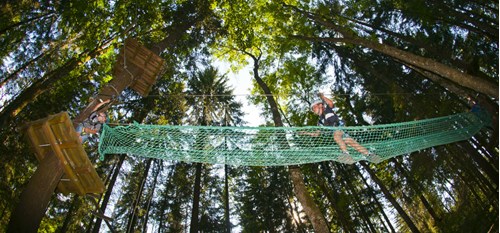 Wearing a harness and helmet you clamber around a tree top adventure playground built for both adults and kids with zip wires and rope bridges. Just like Tarzan, you swing between the trees on ropes, ladders, swings, aerial runways, cargo nets and rope bridges. Also check out Indiana Adventures for a slightly more child friendly version at the Parc Dereches.
Canyoning
This is not for the faint hearted! It involves abseiling, climbing, swimming and sliding down waterfalls and river canyons in Morzine. You wear a wetsuit, trainers, helmet and harness whilst accompanied by a fully qualified guide. Great fun! Also check out gorge walking trip which are more family friendly. Again, we recommend Frogs Rafting every time!
Frogs Rafting run fantastic canyoning trips.
Fantasticable
Fantasticable is an aerial zip wire that spans two valleys in Chatel sending you soaring "superman-style" head first at speeds of up to 90 km/h. It really is an ultimate white-knuckle adrenalin experience!
*Please note MultiPass discounts are only available with selected activity providers which change year on year. Check the Multi pass website for up to date info.
Swimming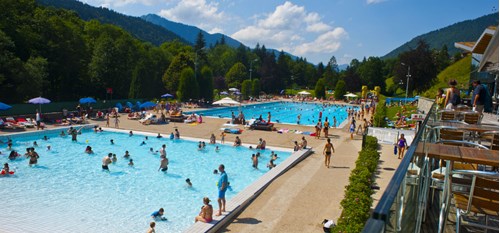 Free with the Multi Pass Morzine has a fantastic outdoor olympic swimming pool complex with lawned sun lounger areas, poolside restaurant and water slides. Great fun for the whole family.
Alternatively, there are natural swimming lakes just outside Morzine in Montriond and Les Gets.
About an hour's drive away is Aqua Parc - a huge water park, with more slides than you can shake a stick at!
Tennis
Free access to the hard courts with the Multi Pass
Morzine Tennis Club is situated in the bottom of the valley alongside the bubbling River Dranse. It contains 7 hard courts, 2 clay courts & 3 practice walls and equipment is available for rent.
Climbing
There are some great walls available locally in St Jean D'Aulps. Ice climbing, glacier walking and mountaineering are available in nearby Chamonix - an hour's drive from Morzine.
Horse Riding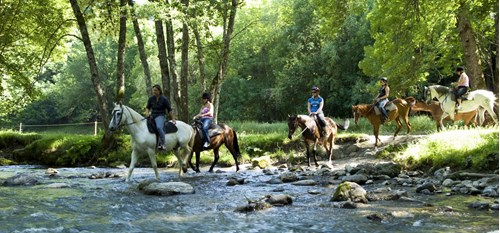 Set in the beautiful river side Parc Des Dérêches Morzine Horse Riding School is a well run centre where beginners to advanced riders can take lessons and rent ponies for treks within the park.
Via Ferrata
Climbing routes up rock faces using ropes, rails, ladders and pegs, originally designed during the war to allow troops to pass the mountains more easily. The professionally guided trail in Avoriaz is great, but for those seeking a more challenging route, we recommend the via ferrata in nearby Sixt-Fer-Cheval.
Local Summer French Courses for Families and Juniors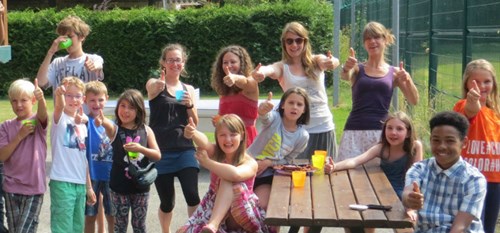 The Alpine French School offer a selection of activities and adventures in and around Morzine tied in with learning to speak French! There are lots of different options for both kids and families, day packages, week long packages and even options to tie in with GCSE and A Level French. Click here for more information. It is best to pre book before you get here but there will be some options like wine tasting and conversational classes which can be organised the weekend you arrive.
Sightseeing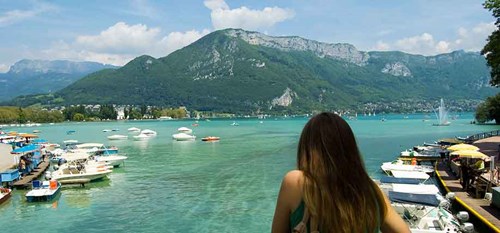 Montreux, Yvoire, Evian, Chamonix, Geneva, Annecy are all within an hour's drive.
Golf
Surrounding courses include Morzine-Avoriaz and Les Gets. There are additional courses in the Haute-Savoie set amidst some of the most spectacular scenery in Europe. They include Chamonix, Megève, Annecy, Flaine and the Royal Club at Evian, overlooking Lake Geneva - one of the finest clubs in France.
Water Skiing and Wakeboarding
Water skiing and wakeboarding are thrilling activities and sports which anyone can learn to do on Lake Geneva near Yvoire.