Top 6 Family Activities to do in Morzine this Summer!
Planning your activities this summer? It can be a minefield. If you only have a week to spend here in Morzine this summer, you want to get as much out of your stay here as possible, especially at the moment!
"We are coming for a week, there is so much to do so what would you recommend?"
We get asked this ALL the time. So here it is.... our recommended "Bucket List" of MUST DO family friendly activities. In this post, we are going to give you the top 6 things to do in Morzine this summer as a family and where to do them.
Swimming
Riding the Chairlifts - MultiPass
Accrobranche Tree Top Ropes
Rafting with FROGS
A Day at Lake Montriond
Introduction to Mountain Biking / E-Biking
Swimming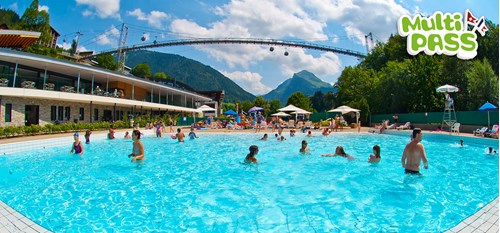 Morzine Aquatic Centre
Morzine has an excellent swimming complex, located in the Parc des Dereches right in the heart of the valley. The complex can easily be seen from the big suspension bridge spanning the valley, giving you a good idea of what to expect before you go.
The complex has both indoor and outdoor areas to enjoy, suitable for kids and adults.
Outdoor
A 50x21m olympic pool (heated to 27°C)
A teaching pool
A paddling pool
A beach volleyball court and a grass recreation area
'Beaches' by the pools and in the grass areas
Indoor
A 25x15m pool (heated to 27°C)
A 12,50x10m teaching pool (heated to 28,5°C)
A 50 m2 paddling pool (heated to 31°C)
A wellness center with steam room and sauna
There is plenty of space on the grass and the areas around the pool ideal for setting up camp with your beach towels, which you can hire from us at €5 Euros per week. There are sun loungers and also a SLIDE and kiddie pool.
Please remember that board shorts are not allowed, so gents need to wear speedos while swimming. If you forget, there is a swimming trunk vending machine.
Opening Times: Weekdays - 8am to 6pm
Weekends - 10am to 6pm
Prices: Adult - €4, Child - €2 (without Multipass) FREE with a Multipass
How To Book
In Summer 2021 - to meet social distancing regulations, you needed to book time slots. We are hopeful you will not need to do this this year. But in case, booking your time slots is very easy using the online booking system. It is made even easier with the English language version of the website. You have to book on the morning of the day you want to go to make sure you get the slot you want.
Aquariaz at Avoriaz
For something a little different, where the guys can wear board shorts, you may want to visit Aquariaz. Aquariaz is an indoor tropical paradise in Avoriaz, with lush vegetation and rocks. It features a lazy river, an aquatic halfpipe, a water playhouse, a paddling pool and a large pool with climbing walls.
You have a couple of options to get to Avoriaz from Morzine. The first way is to drive all the way via the Col de Joux Vert or Route D'Avoriaz. Alternatively, you can take the A bus to the Prodains cablecar. From the top of the cablecar, you then have a short walk to Aquariaz itself.
The cable car ride is included with the Multi-pass, which is well worth buying.
Visit the website here: Discover Aquariaz
Opening times: Open every day 10:30 am to 7:30 pm.
Prices: Adult - €9, Senior - €8, Kids - €6, Under 2 years old - Free
How To Book
In summer 2021 - Aquariaz required you to book in advance, which we hope won't be need this year. There are 250 spaces for afternoon sessions with a duration of 2 hours and a half hours, and you need to book on the day that you want to go. The booking system on the website isn't obvious, so you need to scroll down to the bottom of the page, where you will find a "Book Now" box.
2. Use your Multipass - Riding The Chairlifts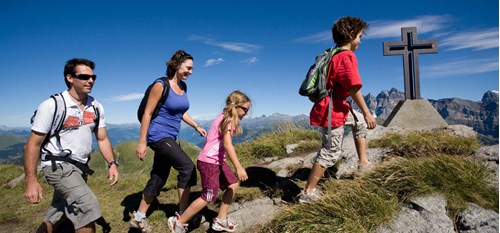 More Mountain are affiliated to the Multipass scheme which means you get the discounted rate of just €2 per day to (as opposed to €8 per day) to enjoy over 50 free and discounted activities all over the Portes Du Soleil.
One of the advantages of the Multipass is that it gives you access to the ski-lift system. The lifts allow you to cover lots of ground, enabling you and your family to discover the alps in an easy and fun way.
All you need to do is sit back and ride the lifts like a roller coaster while taking in the alpine views and marmot spotting. The lift system can take you all the way into Switzerland. Once effortlessly at the top, you can walk the ridges allowing you and your family to hike up high, stop off for a picnic or mountain refuge en route and take in the scenery with a glass of something cool and fresh. This is an easy activity with little kids as well as bigger ones, and great fun. Completely unique.
If you are driving, an ideal place to start riding the lifts is Linderets. You get there by driving up the twisty Col de Joux Vert. Just before you get to the lifts at Linderets, you will get to the goat village. As the name suggests, this small hamlet of restaurants and gift shops is home to lots of free-roaming goats. The goats are very friendly and provide lots of opportunities for goat selfies. The Kids love it.
However, you will notice that the goat village doesn't exactly have a sweet smell. Therefore, you may not want to hang around too long for lunch. So we recommend that you continue up to the Linderets bowl. Here you will find lots of restaurants and bars, where you can enjoy great food while watching the mountain bikers.
One of our favourite restaurants is Mamo's. Their service is excellent, and the team are always friendly. We especially like their burgers, homemade Croque monsieur and quiche of the day.
Alternatively, you can eat your own picnic by the gently flowing river (which is also great for paddling and cooling down on a hot day). Linderets also has a new Salle Hors de Sac (Picnic Eating Room!), where you can eat your own food for free. But there is a great little open-air snacker next-door owned by Leslie - La Quarante Sept. More Mountain guests get a 10% discount.
How To Get A Multipass
When you arrive, Carolyn or someone from the MM team will give you a multipass voucher. You take this voucher to the lift pass office, where you pay your discounted rate over the counter. Super easy.
3. Accrobranche - Tree Top Ropes Courses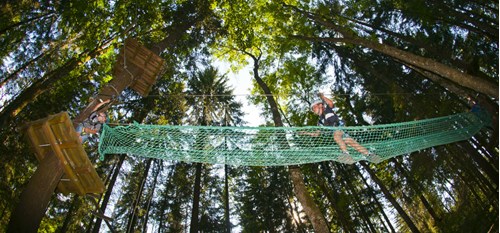 For the smaller ones: Indiana Aventures
We have had a lot of fun on the two treetop assault courses in Morzine. The first one you will come across is the one in the Parc Des Dereches. The one run by Indiana Aventures is in the bottom of the valley, located further down the river from the swimming pool.
Anyone between 2 and 102 years old can make their way from tree to tree using ropes, platforms and zip lines. The course tests your balance and fear of heights in safety on a choice of routes to suit different levels of competency. All the equipment is provided, and everyone is supervised to ensure they are safe.
How To Book
To make sure you get a time slot that suits you, we recommend that you contact Indiana Aventures in advance.
Phone: +33 (0)4 50 74 01 88
Email: [email protected]
Opening Times: Every day during summer from 10am to 12pm and 1:30pm to 4:30pm
For the Bigger one ones: NYON Cascade Aventure
If you are a little more adventurous, we recommend that you check out the high ropes course at Nyon. Walking up the river to the Nyon waterfall brings you to a similar set up to the one on the Dereches, but the three circuits are much higher run by Cascade Aventure.
There are 3 different courses to choose from consisting of ropes, cables, platforms and zip lines. One of the zip lines gives you the best view of the waterfall.
How To Book
We recommend that you book in advance, especially as they will be restricting the number of people going on it at once.
Phone: +33 (0)6 83 19 21 18
Email: [email protected]
Opening Times: Weekdays -10am to 3pm
Weekends - 1:30pm to 3:30pm
Prices:
Parcours Pitchou (3 to 6 years): €10
Choice of short routes (3h unlimited course package): €18
Choice of long routes (3h unlimited course package): €23
4. Rafting with Frogs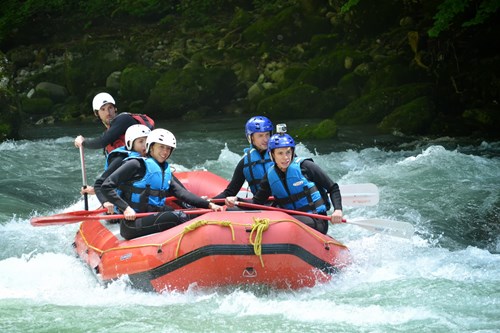 We are big fans of Frogs Rafting, and we try to get at least one rafting session with them every summer. Rafting is suitable for kids above the age of 8 years old and routes take you down the local River Dranse or Giffre. With a maximum of 6 people in the boat, your guide will take you down rapids and through gorges, pointing out any wildlife on the way, and suggesting novel ways to go down the river.
Some people are content to float down the river, soaking up more of the atmosphere than the water, but for those of you after an adrenaline rush there are various 'special detours' your guide will help you take advantage of! These usually consist of cliff jumps and swimming spots.
Rafting trips are generally 2-2.5 hours in total and include all the equipment, a safety briefing and transportation to the take-off point.
You can read any COVID measures in their blog, but they include how their wetsuits are disinfected and quarantined. Be sure to pre book as August will be busy!
How To Book
Whitewater rafting is something that you definitely need to book in advance, preferably before you arrive in Morzine due to its popularity. You can book by phone or email, you can do this in English making it super easy.
Phone: +33 (0) 609 308 077 (if there is no answer straight away, they will be out on the river, but someone will get back to you as soon as possible)
Email: [email protected]
Prices: From €45 per person
5. A Day at Lake Montriond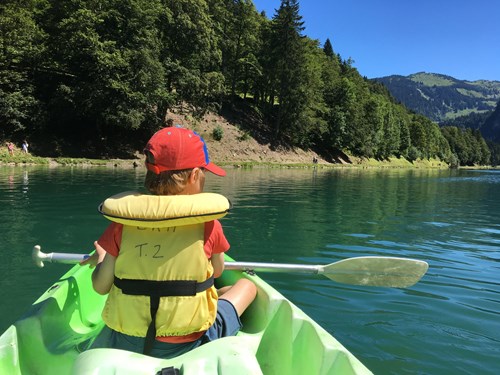 A trip to Morzine in the summer isn't complete without a trip to Lac de Montriond. There is a whole host of activities you can do at the lake and is a great way to enjoy the open air and lots of space.
You can hire kayaks, stand up paddleboards (SUP's) at the lake, swim or simply chill out on the grassy banks. New for this summer is the mini-golf course, which adds a new and fun way to enjoy the space.
There are a few restaurants and a snack bar by the lake where you can stop for lunch and enjoy the views of the clear water. We love the Verdoyant restaurant for views and the little snack bar "Lac'Tuel" for great salads and Croque Monsieur's finished off with a massive choice of ice creams! Great for the kids.
There is also Hotel du Lac for pizzas and cocktails with lovely views of the lake.
If you are driving up to the goat village, you will pass the lake on your right hand side, so you can easily stop off on the way there or on your way back to your accommodation.
6. Introduction to Mountain Biking / E Bikes?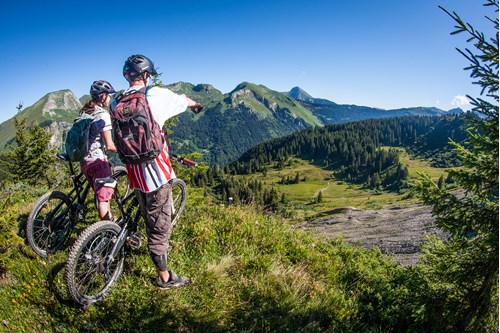 We are big on mountain biking at More Mountain, so we are naturally going to urge you to give it a try. Morzine is mountain bike heaven, thanks to its access to world class trails. But you don't need to already be an expert to ride here, as there are options to ease novices and kids into mountain biking in Morzine.
Easy Bike Rides For Families
If you have small kids, you may want to start them off pedalling around the Parc Des Dereches. The paths running alongside the river are wide and flat, making the experience very safe. Further up the river towards Nyon, there is a newly surfaced river path from the fire station that takes you to the Nyon car park and waterfall. This path is called the Chemin des Renard.
The paths along the river are also ideal for your first ride on an ebike. Ebikes are perfect to allow families to ride together. For example, parents and grand parents can use an ebike to keep up with the kids.
Riding In The Mountains
For your first taste of mountain biking in actual mountains, we recommend that you check out the green runs on the Super Morzine side of the valley. Take your bikes up the Super Morzine lift and then up the Zore chairlift, for access to the 'Soylent Green' trail. This is one of the easiest runs in the area. The trail undulates like a pump track and features berms and small optional jumps.
The Soylent green trail gives you two options. You can either carry on all the way down to the Serrusaix chairlift, or you can join the road when you get to the tunnel. From the road, you will be able to see a farm, where a shuttle bus will pick you up. The shuttle bus will then take you to a very long flowing green trail. This is the easiest trail in the Portes Du Soleil, that twists its way through the forest with a shallow gradient. This trail is really good fun and takes you through Shreddie's treehouse and a picnic area.
However, if you don't want to go it alone you have some options for learning the ropes and being taken to the best places.
Lessons And Guides
Inter Sport located next to the Super Morzine lift has the Ride Academy. Here you can choose between lots of different courses. But from around €39.50, you can hire a bike, helmet, body armour, a half-day lift pass and an instructor.
If you want more of a coaching experience we recommend that you check out RideAbility or MorzineskiMTB. Both of these schools are very good with kids and families, while giving a more personal experience. If you choose Ridability or MorzineskiMTB, you will need to either bring your own bikes or hire them.
When it comes to bike hire, while we recommend Torico for adult mountain bikes, while Pleney Sports and Star Ski have a good selection of kids bikes. Pleney Sports also has a new fleet of E Bikes for this summer, perfect if you don't want to pedal to far!
Staying Safe
We will keep you up to date if there are any local businesses and organisations changing anything due to COVID -19. But we are hopeful that we are in for a great summer now that most rules have eased!