Summer in Morzine: The Ultimate Guide (Updated Summer 2022)
We have written many blogs about summer in Morzine. This is because there are so many different things to do and the simple fact is that it is fantastic! So we thought it was about time we created one blog to consolidate all the information. This is your one stop Summer in Morzine Ultimate Guide...so here we go.
What is Summer in Morzine Like?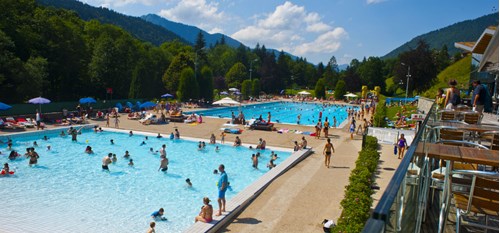 The atmosphere in summer is quite different to winter. Think barbecues, drinks in the sun and a whole host of things to do. Just because you can see snow on the peaks, don't think that it is cold. We pretty much live in t-shirts and shorts during the summer. Of course there are wet days occasionally, but there are so many things to keep you occupied, you won't get bored. Or you can just relax in one of our fantastic chalets or self catered properties.
If you feel like having a change from sitting on a beach and fighting for a sun lounger, you should definitely consider a Summer holiday in Morzine. Warm sunny days, mountain breeze and glorious sunshine means you can swap your beach for a natural lake or sit by the pool at the foot of a mountain. You will want to discover what secrets are hidden under all that snow! The pistes become breathtaking trails for mountain bikers. Plus the chairlifts become rollercoaster rides for walkers and hikers with links to stunning scenery, flower filled pastures, cow bells and yummy authentic mountain restaurants!
If you want a quick reference straight away, you can read the about our top 6 Family activities to do in Morzine here: Top 6 Summer Activities for Families in Morzine
Lets just hope things are back to normal this summer and we can all just get on with enjoying ourselves again!
Mountain Activities in Summer
Mountains are the ultimate playground, they provide endless opportunities for us to have fun. Summer activities in Morzine vary from adrenaline fuelled, white knuckled adventures to gentle hikes and relaxing in the sun with a glass of wine.
On Two Wheels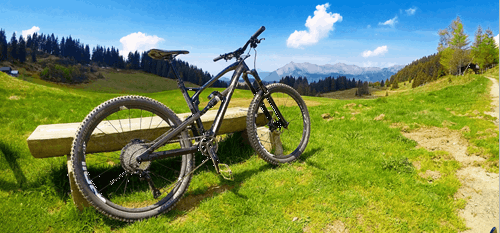 Morzine is mountain bike heaven during the Summer. The trails in the Portes du Soleil are world class and plentiful. Whether you are a downhill rider or like to go for a leisurely pedal, there is more than enough to keep you occupied. There's a serious number of world class enduro, downhill, and cross-country trails for you to get stuck into, but also some more gentle terrain for beginners. Morzine is the perfect location for adventurous, well-seasoned bikers, as well as those curious to try it for the first time.
If you fancy a bit of help getting up the hills or just are not as fit as you once were, then electric bikes may be an option for you to consider. They give you access to terrain that you wouldn't normally be able to get to.
Bike Hire : Bike Hire for a full suspension downhill or Enduro set up is not cheap. However, rest assured some of the bikes you can hire in Morzine are fantastic quality, high spec and well maintained by expert mechanics by the shops we recommend. They have to be, as the terrain is pretty tough.
There are many hire shops, but our favourites are Torico. We get a special More Mountain discount so ask us before you make a hire through them. They also have experienced bike mechanics to fix any problems you will have with your own bike and they also have a selection of road bikes too!
We also recommend Anthony at Pleney Sports and Intersport Morzine
If you are a beginner or haven't ridden in the Alps before, it is a good idea to hit the green runs first, just to make sure you know what you are letting yourself in for. Have a look at our guides to mountain biking in Morzine below:
Beginner Mountain Bike Trails in Morzine
Why Skiers and Snowboarders should try Mountain Biking
It's not all full face helmets and knobbly tyres, if you have a penchant for lycra, Morzine is great for roadies too. There are loads of routes to choose from, especially if you like a climb. You can take on parts of the Tour de France or even ride to Geneva and around the famous lake.
We recommend going on a tour with Velovation. They will take you on the best routes in the Portes du Soleil and beyond.
On Foot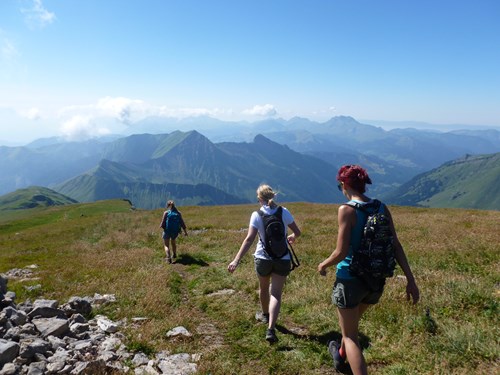 Morzine is the ideal place to base yourself in order to enjoy the area's many hikes. You can go for an easy walk locally or take on one of the more challenging peaks or routes. To cover more ground, just jump on the lift system used by skiers in the winter. This means you can get to hiking routes more further afield pretty quickly.
Hiking is the perfect way to see the Alps: Stunning lakes, rivers, forests and of course Mont Blanc are all things you can expect to see. If you are lucky, you may see wildlife such as eagles, chamois and marmots on your travels. Have a look at the blogs below for examples of easy walks and local hikes to Morzine:
Top tips for hiking in Morzine
Water Sports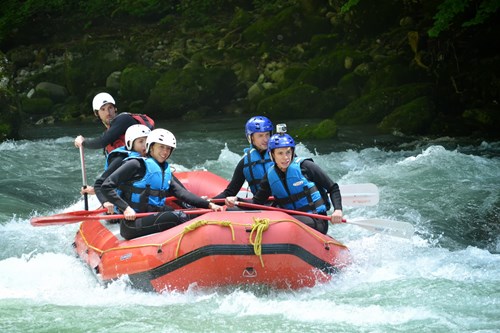 Some of our guests arrive with a huge list of things they want to do during their holiday in Morzine. They want to experience everything the mountains have to offer, and the many lakes and rivers around Morzine give us different ways to enjoy the mountains.
When the weather is especially warm, spending time in the water is a great way to cool down. The most popular activities revolve around our rivers and lakes where you can easily try out White water rafting for the first time, Waterfall Canyoning and Lake Kayaking.
Check out our blog where we have outlined 10 ways to get wet in Morzine during the summer. Smashing through the white water, jumping off waterfalls with Frogs Rafting, or simply paddling around a tranquil lake are all possible.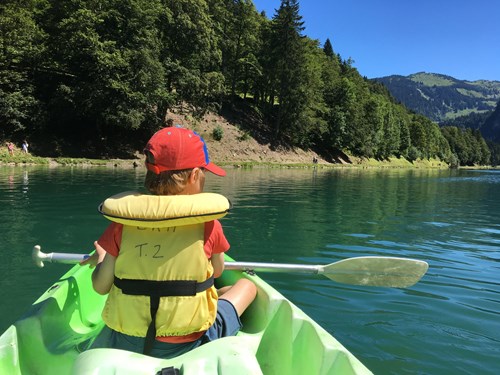 In the Air
Probably an even better way of seeing the alpine views than hiking, is from the air. If you haven't been paragliding, this is a "must do" during your stay in Morzine. You are driven to the the top of the Super Morzine lift, where your pilot straps you in to the tandem harness and hooks both of you up to the wing. Once the wind is correct, you both start running down the mountain, before feeling the wing fill with air and the ground dropping away from you. To be honest, this is the only part that is slightly nerve wracking. Once you have taken flight, you just relax in to the harness and enjoy the view. The other great part about this, is that you pretty much land in a beer garden!
The Multi Pass
More Mountain is part of the Multi Pass scheme. This is the bargain of the century. €2 per day gives you over 50 free and discounted activities around the Portes du Soleil.
Among other things, the Multi Pass gives you access to 22 mountain ski lifts (for all you hikers and walkers out there), Morzine's swimming pool and spa, bathing lakes in Les Gets and Montriond, the Morzine ice rink, tennis courts, mini-golf, and buses and petit trains in and between connecting villages.
It has to be said, the most popular activities with our guests for the multipass include the use of the chairlifts and the pool area in Morzine.
There is something very exciting about taking the whole family on a chairlift ride up to Switzerland, jumping off on foot at the top, rather than skiing off, then hooking your backpack over your shoulders and hiking through flowered meadows. It's a great day out and very wholesome!
Events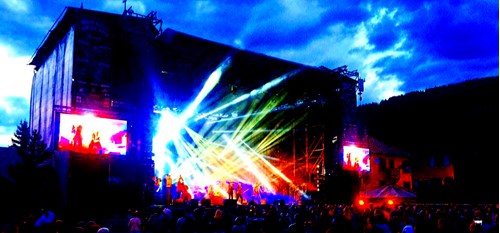 There is always something going on in Morzine in summer. If it isn't the Tourist Office laying on activities, there is something organised by one of the many bars and restaurants.
The Tourist Office Square becomes a hub of activity during summer. It is kind of the focal point for lots of activities. You will find kids games, entertainers and music when events are organised. But it also becomes a concert venue. During events such as the Harley Days Harley Davidson festival, a huge stage is built for big headline acts to entertain you for free. In the past we have had Simple Minds, Rival Sons, Toto and the Original Blues Brothers Band.
You can expect to enjoy lots of live music and DJs most evenings in the various bars. This is one of my favourite things about Morzine in the summer. You can't beat listening to a guy with a guitar, while eating a barbecue as the sun goes down.
Away Days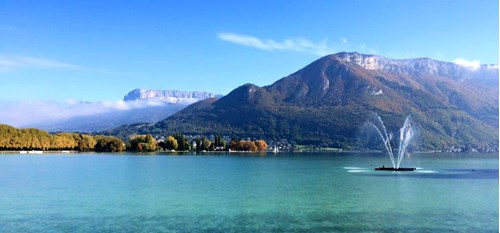 If you bring your car when you holiday in Morzine and fancy a change of scenery, you may want to explore the area. From here you can do visits to Yvoire, Chamonix, Samoëns, Thonon (part of Lake Geneva), and even Switzerland. There are some very scenic drives around twisty mountain roads to stunning destinations. A great day out is a trip to Six-Fer-à-Cheval. This is a huge horseshoe shaped geographical masterpiece decorated with spectacular waterfalls, ideal for a hike and a picturesque packed lunch.
You can also drive down to Lac Léman, more commonly known as Lake Geneva. Within 45 minutes you can be sat in the sun having lunch by the lake, feeling like you are on the Mediterranean. Or you could go on a posh shopping spree in Geneva itself.
Speaking of lakes, I can highly recommend visiting Annecy. This gorgeous city has canal woven streets and fantastic views of the mountains and of course, the lake. You can spend your time on the banks of the lake or paddling on it in a kayak. There are some very nice places to have lunch too, on and off the water.
Check out these summer away days from Morzine
Accommodation
When staying in our catered chalets in the summer, you can expect delicious hearty food, beers, wine and a very comfy bed for the night. The fully catered service means that on 5 days of the week, you receive a 3 course evening meal with wine/beers, a continental breakfast with eggs, freshly baked cakes and access to Nespresso coffee and Yorkshire Tea on tap all day, every day. Plus… homemade toffee vodka to soothe away the aches and pains!
Our self catered properties are amazing in the summer. They have lovely terraces with BBQ's, mountain views and sunshine - perfect for a glass of rosé! Some of them are ideal for roadies and mountain bikers, while others are perfect for families, couples or groups.
On your arrival, we will meet and greet you to explain how your apartment works and answer any questions you may have. A small Welcome Pack with tea, coffee, sugar, milk and a bottle of wine will already be in the property to get your started. Cleaning products are also supplied and all your bed linen and towels are provided alongside luxury MALIN+GOETZ toiletries. Beds are made up as singles or doubles and everything will be spotless.
To make life easier for you, we can provide convenient shopping packs for your arrival and we are also on hand to provide mid week cleaning and towel changes.
Click the links below to get the full run down on what we have on offer:
Self Catered Properties
Self Catered properties ideal for cyclists
Catered Chalets for Families
Catered Mountain Bike Chalet
Dog Friendly Properties
Getting Here
Depending on your circumstances and what you prefer, driving or flying are both perfectly feasible, however, in summer I highly recommend that you drive.
Morzine is in the northern French Alps, meaning it is about a 9 hour drive from Calais. Many of our guests use the Channel Tunnel to reduce their journey time.
The great thing about driving is that you can bring your own bikes and other fun stuff. With a car in resort, despite most things being here on your doorstep in Morzine, you are still flexible and able to explore nearby destinations and take a few away days if you are here for more than a week. Plus feel free to stock up on English foods that you won't be able to find the other side of the channel (good for parents dealing with fussy children).
You could actually make the most out of your drive through France, by stopping overnight in Dijon or one of the other historical cities on the way here. This will also give you the advantage of arriving into Morzine fresh and ready to start your Morzine in Summer holiday experience. We have a great blog for driving to Morzine which you'll find useful.
But flying is very easy too. Morzine is about one hour and twenty minutes from Geneva airport via a transfer bus. Our recommended transfer company Skiidy Gonzales will collect you from the airport and drop you off outside the front door of your chalet or apartment.
Do you fancy it?
If this seems like something you are interested in, you can book online or contact us with any questions you may have.