Paragliding from More Mountain on Vimeo.
The Parc des Dérêches has a Riding School. They provide lots of different horse riding experiences, from pony trekking on a Shetland Pony to hacks out in to the mountains.
Lots of Good Value Entertainment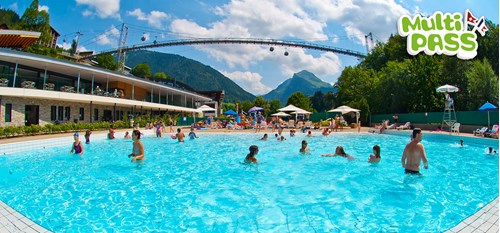 Some beach holidays are good for entertainment, but so are holidays in the mountains. In Morzine there are lots of free events put on by the tourist office. Most weekends there will something extra to do, from kids workshops to large scale live music. But the best value for money thing you can do, is to buy a multi-pass. More Mountain is part of the Multi-Pass scheme. For an optional €2 per day, our guests can take advantage of over 50 free and discounted activities. Normally, this is €9 per day! Activities include pedestrian access to the lift system and the swimming pool complex. It also gives you access to the tennis courts.
Escaping the Crowds
Apart from the occasional weekend, when large scale events are held, summer in the Alps is much less crowded than the beach. This not only makes the potential for relaxation higher, but it means traveling is much easier, as airports and roads are much quieter, as holiday makers travel to the more popular beach resorts. Summer in the mountains is also a lot quieter than the winter and has a more laid-back feel. Walking around in shorts and t-shirt, barbecues and outdoor living changes the dynamic of a place too.
Try New Food
The food in the alps is pretty amazing and has a number of local specialities to try. For example, fondue, raclette or tartiflette. Tartiflette is something we serve in our catered chalets in both summer and winter. It is slightly different to the versions served in restaurants, but if you want to give it a try at home, here is our "secret" recipe. We believe it to be the best version of tartiflette you will find!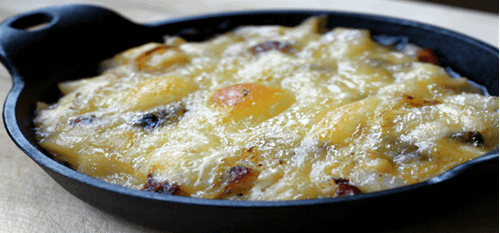 How packed do you want your holiday itinerary to be?
Some people go on holiday to relax, while others like to experience everything a destination has to offer and some like to balance it out. We don't get much time off from work, so we want to make sure that when we do, we make the most of this precious time. The great thing about an alternative family holiday in the mountains, is that you can enjoy yourself at whatever pace you want to. For example, you can spend all day mountain biking on world class trails, or simply read your book by the lake with an ice cream in your hand. As you can see, there are lots of things to keep you and your family entertained during your holiday. Some days you may want to mix it up by exploring in the morning and chilling out in the afternoon. You can enjoy some fantastic days away too, to see what the rest of the area has to offer.
Fantastic Accommodation

Those trendy chalets and apartments used by skiers and snowboarders in the winter, also make great places to stay for alternative holidays in summer. Picture sitting on a sunny balcony or terrace sipping a glass of wine, while enjoying stunning Alpine views. Many of our properties also have outdoor hot tubs, which are ideal to soothe those legs after your Alpine adventures.
More Mountain offer a huge selection of properties to choose from. All are comfortable, stylish and well equipped. If you choose one of our catered chalets, you will be looked after by our fabulous chalet hosts. They will not only cook and clean for you, but they will also be on hand to help you out with anything that will make your stay even better.
But, if you decide to go self catered, you are not on your own. Our self catered team will make your stay as easy and as hassle free as possible, by having everything you need in place before you arrive. There will be someone to give you support and answer your questions at any time.
For self catered guests, we offer a wide range of extra services. From shopping packs, dog friendly accommodation options and properties with secure bike storage are just to name a few.
Well Priced
We did a little price comparison between a self catered More Mountain summer holiday and one in Marbella. Basing it on a family of five, this is what we found:
A 3 Bedroom self catered villa in Marbella costs around £5,500 for a week at the end of July. This does include car hire and flights, however, a 3 bedroom apartment at More Mountain in Morzine for the same family with Hot Tub will cost around €1,800. A transfer for five people from Geneva airport will cost €350 Euros. Flights are great value with someone like EasyJet. Even better – you can drive your whole family over for around €500 Euros and use the Eurotunnel. Safe to say, we found that your holiday will be significantly cheaper than a trip to Marbella. Happy Days!
Once in Morzine, unless you are hiring high end mountain bikes, your day-to-day activities don't need to break the bank either.
– Multipass €2 Euros pp per day
– Packed lunch from supermarket €8 Each or Mountain Lunch €12 Euros pp
– Ice cream for a treat €3 Euros each
– Happy hour beers/wine & Soft Drinks from €4 each
– Meal out approx €30 Euros per head including wine
Why Choose More Mountain For Your Alternative Summer Holiday in Morzine?
More Mountain has been providing winter holidays in Morzine since 2008. Morzine is located in the Portes du Soleil, which is touted as the largest ski area in the world, but it is also a fantastic summer playground. We provide a similar experience in the summer to winter. With high end properties, a fantastic team, local knowledge and superb food, we have everything you need for amazing alternative summer holidays.
During the Summer, Morzine has a more relaxed pace than it does in the Winter. But, as you can see it is packed full of things to do. This means your holiday can be as relaxed or as action packed as you want it to be. However you choose to spend your alternative summer holidays in Morzine, you will experience the stunning alpine meadows, running streams, stunning lakes and snow-capped mountains.
So what is it going to be?
Mountains or beach? Personally, I think it is a no brainer. Alternative summer holidays in the mountains offer so much more than your average beach holiday. I would prefer to finish my day off with a cocktail at the Tremplin than with a warm pint of Fosters at the Red Lion.