The Best Times to Go Skiing in the French Alps: A Guide
If you only have one week to enjoy your winter holiday, then you should choose a time that is going to suit you best. Different times of the ski or boarding season in the French Alps have upsides and downsides, depending on what's important to you.
Late December has the buzz of the festive season whilst January is more quiet and VERY snow sure. February is probably the most popular time to go skiing for families. March and early April have warmer more settled weather but longer days with slushy fun… Find the best time to suit you and your group with this helpful guide:
The Best Month for Your Ski or Snowboarding Holiday
We are very lucky in that we've have experienced skiing in all the winter months, as a couple, a family and in a group. We know there are certain times of the year that are just perfect for some people and not so much for others. Believe us, choosing the best time can be the difference between a good holiday and a fantastic holiday.
Of course, if we had a crystal ball to show exactly what the weather was going to do, then life would be much easier! Unfortunately we don't, but we can point out some advantages and disadvantages to think about as you choose when to book your next ski or boarding holiday in the French Alps.
Our personal fave time of year to ski is mid January for guaranteed powder dumps, blue bird days and cold fresh pistes. BUT…. we also love early March, also great for blue sky days, good snow and early après slope side!
December - Enjoy the Festive Buzz With Little Effort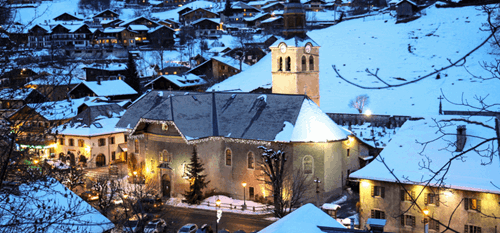 Why is it Good?
There is nothing better than being in a winter environment to celebrate the festive season. Catch a glimpse of Père Noel on the slopes or celebrate the New Year with an awesome firework display and a torchlit descent - it's truly magical!
There is nothing better than having Christmas dinner cooked for you in a catered ski chalet, with no effort needed other than to raise a glass and be merry! Coming down on Christmas morning to a few carols on the radio, a glass of Bucks Fizz by the fire and opening presents in your PJs … followed by devouring a fully cooked breakfast, prepared by someone else, before embarking out on the mountain for a Christmas Day ski is pretty amazing!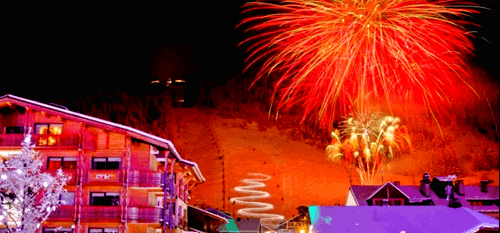 Get back to the chalet for vin chaud and mince pies with your hosts and then follow this with a traditional turkey dinner with all the trimmings. Delicious and completely stuffed… See if you can squeeze in some Christmas pud and brandy butter after that one, not to mention the cheese board!
A wide range of great events and activities to enjoy, there is literally something for everyone.
A wonderful backdrop for a special family holiday. Give your kids the gift of learning to ski or board or experience the other things you can do in the Alps.
Break with tradition and enjoy an activity based holiday in the mountains, rather than the usual Christmas get-together at home.
New Year is equally as fun - Enjoy a gala dinner on New Year's eve in the chalet, drink endless amounts of Prosecco and dance the night away on the slopes until the early hours. Fireworks are a plenty! Nurse your New Year's day hangover with a full english or bacon butties and get yourself skiing!
Things to Consider...
It can be very busy both on the slopes and in the ski resort, so accept that getting around will take longer, especially on New Year's week, regardless of this you'll enjoy the wonderful atmosphere!
Prices are high as it's peak season. Unfortunately, the end of December is one of the most expensive times of the year for a winter holiday as it ties in with public and school holidays, for those looking for a much needed family break or simply satisfies the eagerness for a first snow fix of the winter. We get a lot of people coming for New Years that come again later in the season.
In saying this - Why not opt for January or March? The first and second week of January is often overlooked - it's the cheapest week of the season, not only for accommodation but also for flights.
The winter season is just beginning and new recruits are getting used to their roles. Choose a ski company with lots of experience and knowledge to help you get the most from your holiday.
Who It's Best For
Families
Multi-Generational Family trips
Couples
Anyone wanting to experience the festive season away from home.
January - Ski in Fresh Snow with Cheaper Prices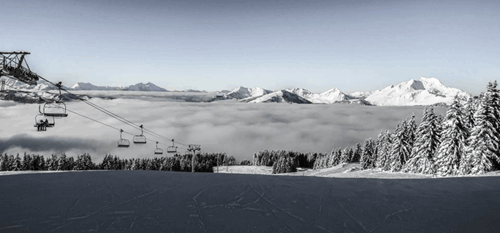 Why is it Good?
Enjoy a laid back trip, as January is more quiet, giving time to relax as well as party.
It's much cheaper too… certainly from the More Mountain perspective, you can stay with us in January for the same price as in April and the snow is pretty much guaranteed!
The snow is generally better in January before the school holidays start. It gets busy in February and the French holidays take place just after the UK school holidays.
In January the uncrowded slopes are a joy and with no lift queues, you can maximise your time skiing or boarding.
Beginners can focus on stress-free learning as the pistes are empty and it's easy to book last minute ski lessons with ski schools. Although pre-booking is always advised to avoid disappointment.
As a whole, lessons, trips and restaurants are all easier to book and can be more competitively priced.
There are some great accommodation options when the winter resorts are not so busy.
Off piste skiing is at its best. Regular snow falls topping up the levels, mean only one thing - great powder! So whether you want to ski steep and deep or experience the feeling of floating through untouched snow on more gentle slopes, then January is the time for you.
Snow is pretty much guaranteed and the whole area is open. The vast mountain range becomes your winter playground to explore and enjoy.
If you book now then you can fit in another cheeky trip at the end of the season. Go on….. you're worth it!
Things to Consider...
There aren't many!
Temperatures can be low so wearing the right type of ski clothing really makes the difference. You don't have to break the bank to stay warm and dry.
Mountain weather can be more unpredictable, which is the perfect excuse for finding refuge by a roaring fire in the many lovely mountain restaurants. Of course, hot chocolate or vin chaud are also recommended!
There is nothing better than a wintery January day, with a fresh dump of powder, having whooped your way down a fresh piste and finding the the gem of a mountain restaurant to warm your gloves and toast your backside in front of a fire with a vin chaud! Even better if you can grab a bowl of French Onion Soup to go with it! We like Restaurant Crepy for this - it has a cracking log burning stove and fireplace!
Who It's Best For
Groups of young professionals
Couples & mates
Beginners
Experienced skiers in search of powder conditions
Anyone wanting to avoid the crowds of the school holidays
Anyone wanting to take advantage of a more reasonably priced holiday
February - Lively Vibe With Great Weather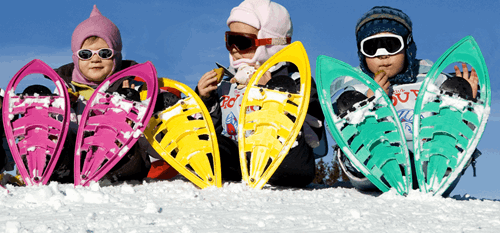 Why is it Good?
February offers the best weather combination of regular snow and warmer temperatures, which really show off the French Alps.
A lively atmosphere in resort with different events planned. The whole resort works together to create a vast array of things to do. We promise you will not be able to experience it all in one trip, that's just our way of making you want to return!
Things to Consider...
Mid February is one of the most popular times of the year as much of Europe has a half term break. All ski resorts will be busy so be prepared to be patient, but rest assured they are ready for you!
Prices are high - after New Year, the February half term weeks are the next most expensive. On the upside the atmosphere is amazing with a friendly vibe and the local ski villages and après bars are buzzing, despite it being a family time!
You always need to pre book your ski hire, lessons and dining experience well in advance. At More Mountain, our Apartment Concierge or Chalet Manager will pre book all our half term guests into restaurants before they get here to ensure they get great food on nights out during the week!
You will need to book all tuition and special events in advance of your trip to avoid disappointment. Thinking ahead is key, so enlist the help of your holiday contact in Morzine to pre-book the things you really want to do.
Who It's Best For
Families who need to book during school holidays
Multi-Generational family trips
Teachers
March - Warmer Weather with Brilliant Events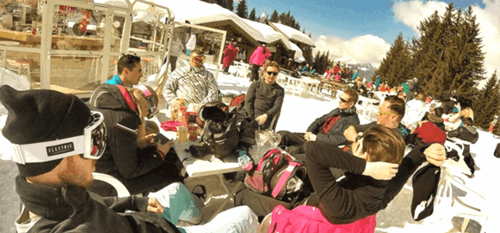 Why is it Good?
The weather is more settled and warmer with longer days to enjoy all that lovely mountain air.
There aren't as many crowds as in February, so you can enjoy the hustle and bustle of a lively French ski resort with fewer people. There are also fewer kids on the slopes, so a bit easier to navigate your way around without dodging the little ones that like to whizz back and forth!
There are much shorter lift queues too so actual ski time seems much longer - plus often the lifts open up for a bit later in the day as the nights are lighter - hence better ski time or more time for piste side après!
Experience the fantastic events and take advantage of the good snow and sunny weather. For example, in March the Portes du Soleil hosts both Rock the Pistes and Snowboxx, music festivals that take place on the slopes!
Here's a little teaser for Rock the Pistes which takes place across the resorts of the Portes du Soleil, including Morzine and Les Gets, with Snowboxx taking place at the legendary Folie Douce in Avoriaz.
Après ski has a more outdoor feel. Think sipping your favourite drink, while sitting on comfy outdoor sofas and listening to live music, as the sun sets with your shades on!
Great for beginners, as the weather is warmer so they can focus more easily on learning and stay outdoors for longer. Plus the snow is softer so makes falling over much less painful!
There can be some excellent offers at this time of the year. Check out accommodation, flights and lift passes to see how you can book your perfect ski trip at a good price.
If you are thinking of organising a corporate trip, this is a great time to come as all the school holidays are well and truly over and done with so you can guarantee more adult time on the slopes.
Things to Consider…
It's a long time to wait for your winter holiday so try and squeeze in an early trip too!
Sometimes the weather can be too warm so the snow isn't as good. It's pretty slushy so is harder work on your legs. Make the most of your time by getting on the slopes early, having a mid-morning coffee stop followed by a late lunch outside in the sun and finish with a shorter afternoon ski.
Who It's Best For
Couples
Groups
Corporate Groups
Anyone who prefers to ski in sunny weather where the visibility is good
April - Sunshine and Snow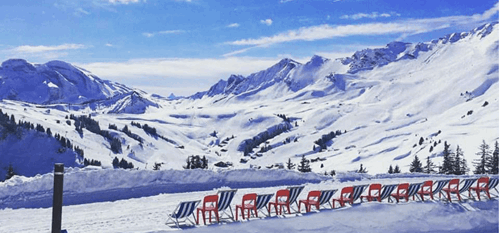 Why is it Good?
The weather is much more settled allowing for sunny ski days, eating out alfresco and returning home with a sun-kissed healthy glow.
Check out end of season deals to be had on all things winter. There can also be some great end of season sales on skis, boards, boots and great clothing, if you want to take a souvenir home!
If you have kids and you don't want to pay high prices for February half term, then Easter is a fab time to come out. Prices are similar to January so make the most of it. Obviously there is some risk on the snow conditions, it's not like mid February, however it is still a winter wonderland and there is plenty of the white stuff! You just adapt your day accordingly as we mentioned above with later lunches.
Plus the soft slushy snow is a lot more forgiving for the kids, coupled with the warm sunny days. It can also feel a bit more leisurely for the parents as the kids aren't getting as tired and cold and wet.
At Easter the Portes Du Soleil offer a cracking lift pass deal over the Easter period where Kids GO FREE. Another great reason to choose Easter over Feb half term.
There's a great vibe in the resort as end of season celebrations begin, such as Slushy Social 5-12 April 2020.
Things to Consider…
Some south facing runs can be more challenging due to the warm weather. Refer to your piste map to avoid runs that will be more slushy, or ski in the morning and enjoy the many other activities available in the afternoon.
It can be busy during the school holidays as everyone wants to enjoy the last of the winter season. Just enjoy the buzz and savour the end of the season.
The slopes are pretty icy in the morning as the snow freezes overnight, so it is best for a lie in, but not too much of one. Aim to get out for 10am at the latest to get the best of the day's fresh pistes. The snow does get wetter and heavier in the afternoon, so some may find it difficult to ski all day, although snowboarders will love slush bashing.
Who It's Best For
Couples
Groups
Families during School Holidays
Multi-generational family trips
Anyone wanting to combine skiing with another activity such as walking, road biking or yoga.
Having Trouble Choosing When to Go Skiing or Boarding?
Winter trips are an amazing way to spend your precious holidays. Although conditions can't be predicted on a day to day basis, it is possible to choose certain times, that will give the best chance of getting what you want from your winter holiday.
So whether it's a romantic getaway, a fun-filled break with friends or quality time with family, you can have a fantastic holiday by choosing the right month.
Maybe you want to book your first ski holiday, perhaps you have a group of friends who are of mixed ability or you want your multi-generational family trip to be a perfect surprise?
Ready to go?
Get in touch today to start booking your dream winter holiday. If you're not quite ready to start planning your ski trip, sign up to our free email course to find out everything you need to know about planning a trip to Morzine this winter.