Drive to the Alps or Take a Flight? How to Travel to Morzine for Your Ski Holiday
Anyone who lives in Europe knows instinctively how fortunate we are when it comes to geological abundance - mountains, lakes, oceans, seas, it's all here.
Skiers and Snowboarders have it best though, don't you think?
Whether you ski or snowboard, you could definitely argue that the Alps are Europe's Crown Jewels for those who love adventures in the snow.
In fact, the Alps are in the "Goldilocks Zone" for UK snow lovers - close enough to get your ski fix with half a day's travel, but far enough away to be a novel and exotic holiday destination. 
If winter in Morzine is on your schedule this season, here's an overview of the best ways to get here, and some pro tips to make the journey stress-free and yes, even fun.
Your Best Bets from North to South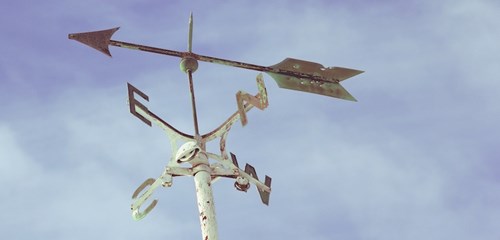 Travelling from the South of the UK
If you live in the south, you've the easiest decision - the Dover ferry is convenient and what could be better than starting your trip with a fry-up in the morning on an early crossing—or a laid-back supper for later ones?
I love Ferrysavers for finding the best deals on ferry tickets.
Of course, you can't control the weather and ferries are occasionally cancelled due to rough seas, but you can avoid all that with the Channel Tunnel ("respecter la terre en passant sous la mer" and all that) if you prefer to drive.
Don't overlook the budget airlines - take your pick between Heathrow, Gatwick, Luton, Stansted, and City all of which run flights into Geneva.
Travelling from the North of the UK

If you're coming from the north, you can still drive to Calais, but your travel time jumps to a good six hours. The good news is that you have several options - one of which even has a bit of Butlins about it.
The overnight crossing from Hull to Rotterdam is a wonderful choice if you're coming from Scotland or other parts north in the UK. Enjoy your beer and your Butlins-style cabaret, sleep it off in a tidy little cabin, and wake up in The Netherland - you'll be in Morzine by late afternoon/early evening.
EasyJet and Jet2 fly direct to Geneva Airport from various airports in the North of England and Scotland. Check directly with the airlines as they usually have a Winter timetable specifically for the ski season. 
Driving is even a good option if you aim for a late afternoon or early evening crossing from Dover. This way you miss the M25 rush and can have dinner on the ferry. Stay in Calais and have an early night so you can hit the ground running at 8 am, and by 4 pm you'll be in Morzine.
Or you could take the tunnel and drive through to Reims (about three hours into France) for an overnight stay to break up your journey. My recommendation? Try Novotel - efficient and inexpensive and even with a leisurely start, (some of our guests like to stop off in Dijon) you'll arrive into Morzine by 3pm.
Travelling to Morzine by train is also an appealing option for many travellers. You can take the Eurostar from London St. Pancras to Paris, then take a train to Geneva. From there you can hop on a bus or take a transfer from Geneva Airport as it's right next to the train station. Check out The Trainline for up to date prices and times. 
The Pros and Cons of Driving vs Flying
Now we'll take a look at the pros and cons of driving vs flying—and give you some expert tips to smooth the journey once you decide.
Pros of Driving to Morzine
Having made this trip hundreds of times myself, I can say the biggest advantage to driving yourself is there's really no limit to what you can bring on your adventure (aside from the size of your car!). Load up on bulky gear with no baggage surcharge to consider. 
If you're travelling with kid, having a car is especially useful - think family day trips, parking at the bottom of the Ardent Télécabine, or driving round to Les Gets for the day. Of course, if you're staying in one of our fully catered chalets we run a ski chauffeur service to take you to and pick you up from the slopes in the centre of Morzine.
Having your own car on a self-catering holiday is a stroke of genius. No lugging your shopping to and from your apartment or chalet (although More Mountain can do this for you so you can avoid the supermarkets and have food waiting for you on arrival in resort). 
Cons of Driving to Morzine
Driving to Morzine means driving in Morzine during the Winter months which can present some challenges if you're planning to drive.
Once you get into the mountains, vehicles are legally required to have winter tyres from November 1 to March 31. You'll also need to carry snow chains in case you end up on snow covered roads. I really recommend picking up some before you leave home so you know how to fit them!
The roads through France to Morzine are nice and easy to drive on but you do have to pay for them. Check Viamichellin for an idea of costs for the journey between Calais and Morzine. 
You also need to carry high visibility jackets, a warning triangle, headlight adapters, breathalyser kit, and spare bulbs (yes, it's illegal to travel without a bulb kit in France) in order to comply with French highway law. The AA's guide to driving in France has all the details you'll need. 
Top Tips for the Drive to Morzine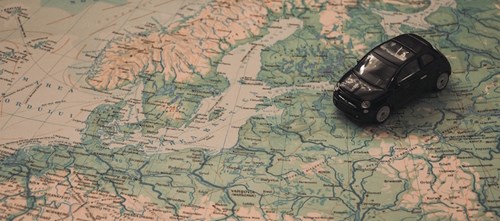 If you've decided to drive, keep these tips in mind—wisdom gleaned through more motor trips over the years than we can count!
When filling up, the words you need to look out for at the pumps are "gazole" (diesel) and "essence sans plomb" (unleaded petrol). 
Keep the tank topped up! It's easy to forget just how big France is and how far it is to the next fuel stop, especially once you hit Dijon.
Service areas in France are great if you're travelling with kids or pets. You'll usually find plenty of baby-changing stations, play areas, and doggy walks.
Aires are service-free picnic areas which are perfect for a quieter break and leg stretch. 
Read up on all the information you need for driving to Morzine in this guide, including important updates post-Brexit.
Pros of Flying Into Morzine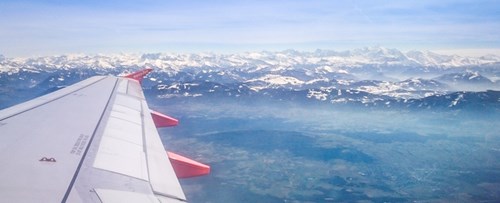 Obviously, the time factor is a biggie when it comes to choosing between driving and flying. You can get to Geneva in about an hour and a half from most of the UK. From Geneva, you're also just an hour from Morzine, so it takes less than a day from home to the slopes, even less than half a day if you're coming from the South of the UK.
There are lots of options for non-stop flights to Geneva due to its spot as a major international finance hub. 
The transfer from Geneva to Morzine is a snap, too. You can book group or private transfers with a number of companies. We always recommend Skiidy Gonzales for our customers; we've used them since we started our business and our customers benefit from preferential rates too.
Of course, you can combine a flight into Geneva with driving to Morzine by hiring a car at the airport. The main thing to consider with this is if you should hire on the French or Swiss side of Geneva Airport.
The Cons of Flying to Morzine
There are two sides to every option, so here are the negatives if you choose to fly:
Watch out for extra baggage fees if you're bringing hold bags and sports equipment, especially with the budget airlines. Suddenly those bargain tickets might not be such a deal.
Flight times and days are often limited from smaller airports so you can't be as flexible with travel dates.
Something else to consider when booking your flight is the time you leave the resort. The early flight home may be a bit more expensive, but remember that the shops in France tend to close over lunchtime so your only option to eat may be in one of the bars or restaurants. If you're on a shared transfer back to the airport you may also need to leave resort to accommodate earlier flights so you might be better paying that little bit more and getting the early flight yourself. 
Top Tips for Flying to Geneva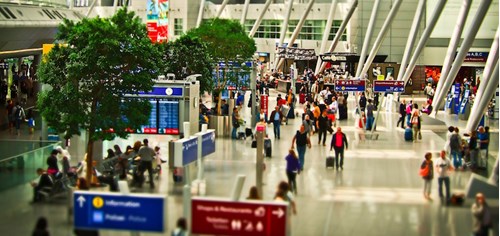 Here are some helpful pointers for navigating your flight to Geneva:
There is a French side and Swiss side in Geneva airport. Be sure to use the cash machines on the French side if you're taking money out, otherwise you'll get Swiss francs instead of Euros. 
Exchange rates are more favourable at foreign cash points; avoid the 'Bureau de Change.'
Put your ski boots in hold luggage and avoid a charge for your boot-bag if you aren't allowed two bags on your airline.
Stash your helmet on your rucksack and carry it aboard as hand luggage.
Wear your ski jacket and snowboard boots to cut your hold luggage weight (although this obviously doesn't work if you ski!)
Final Thoughts…
For families and larger groups, it's usually more economical to drive to Morzine, and you've got your car handy for all sorts of things you don't even think about until they come up. Of course, the time factor can be significant, so if you're on a short jaunt, it doesn't make as much sense.
On the other hand, flying is great if it's just you and a mate, with a view to leave in the morning and hit the slopes by midday. Of course, peak week flights can be extortionately expensive, so timing is important.
No matter which way you choose, you've got plenty of options—and I'm here to give you the in-depth advice you need to plan your trip. Why not sign up for our free email course to help you plan your perfect winter holiday?