Family Ski Holidays: The Ultimate Guide
Family ski holidays are great fun, but with a little planning and guidance, the experience can be made even better. In this blog we are going to give you loads of top tips and we will be covering the following topics to help you make your next family ski holiday one to remember:
Choosing The Right Ski Resort
When to Go on a Family Ski Holiday
Choosing Accommodation
Advice on Group Holidays
Skiing Holidays With Babies and Toddlers
Skiing Holidays With Young Children
Skiing Holidays With Teenagers
Kids Ski Lessons
Top Tips for Family Ski Holidays
Why Morzine Is Great For Family Ski Holidays
Choosing The Right Resort
Getting There
Sitting on a transfer bus with tired kids for a few hours can be pretty traumatic for everyone involved. Therefore, choose a resort that is less than two hours from from the airport. There are a few benefits of doing this:
- It is much more convenient
- You don't start your holiday super tired
- There is less chance of being caught out by snow on the roads
Beginner Friendly Resorts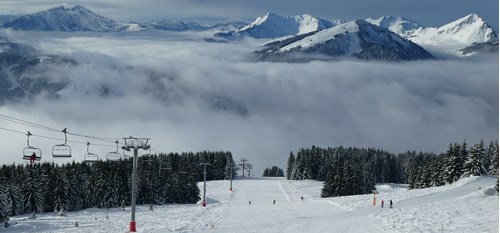 Kids that are learning to ski don't need to go to a resort that has a huge selection of steep black runs. They need some nursery slopes and some nice easy green runs to hone their skills. It is best to choose a resort that is well laid out, making it easy to get to the slopes with all the gear.
Something to look out for when choosing a ski resort for your family holiday, is how beginner friendly the lift system is. It is pretty intimidating if the first thing you have to do as a beginner skier is to get on a chairlift. Therefore, an ideal start is to hop on a magic carpet. This is a conveyor belt that takes kids to the top of nursery slopes, which allows them to develop some basic skills before moving on to drag lifts.
When your child graduates to riding the chairlifts, they will have a larger area to explore with you. You don't need to worry about taking your child on to chairlifts these days. To start off with, you will need to hold their arm when getting on and off the lift until they build up the confidence to do it themselves. All chairlifts come with extra barriers to stop them slipping under the bar while riding the lift. Also, the lift attendants are pretty helpful and vigilant when it comes to kids.
Child Care Options
Family holidays are not just about the kids though, the adults my want to have a night out. Before you book your holiday, it is a good idea to check out the child care options in the resort. Chalet companies will have a number of recommended and trusted nanny services. Make sure that you book nannies well in advance, as they get booked up very quickly, especially in peak weeks.
Extra Activities
Ski resorts are not just about sliding around on planks. For the full experience, you should do a bit of research in to all the other things that are available. Young kids can't ski all day, so having something else to do when they come off the slopes is essential.
For example, you can look for activities such as:
- Ice skating
- Sledging
- Swimming
- Snowshoeing
- Kid's workshops
- Free activities organised by the resort tourist office
Room To Grow
As your kids improve as skiers and snowboarders, it is great for them to have goals. Their first holiday will be when they conquer the nursery slopes and their first green. But they can set themselves a challenge by choosing some blue runs to master for the following year. So choosing a resort that will allow your kid's skiing to progress each time they go, is a good idea. Returning to a ski resort builds up familiarity and promotes confidence for beginners, especially kids.
When To Go On Family Ski Holidays

Most families are restricted to school holidays, but the time of winter you go skiing makes a big difference to the whole experience.
For example, you can enjoy the festive atmosphere during the Christmas and New Year period. January is a great time too, as it is generally cheaper and much quieter on the mountain. Alternatively, you may want to enjoy milder temperatures and sunny skies later in the season. Check out our guide to help you decide when is best for your family ski holiday.
Choosing Accommodation
The accommodation you choose makes a difference to your whole holiday experience. Ski resorts now have some fantastic properties to choose from that are perfect for families. The kids can stay entertained with large screen TVs, games consoles and plenty of space to play in. While the adults can relax in hot tubs, saunas, and comfortable living areas.
The location of your accommodation is very important for family ski holidays. The easier it is to get around the better. It is not just about getting to the slopes, but you need to be able to get to all the other things the resort has to offer with minimal effort. Many chalet companies have well located properties, but they also offer transportation to and from the slopes. This is a huge bonus for ensuring that everyone gets to their lessons on time in the morning. It is also great at the end of the day when legs are tired and you just want to get back to the chalet to relax.
Catered vs Self Catered
Catered and self catered holidays have their own benefits. Which one you choose is all down to your personal preference. If you choose to go self catered on your family holiday, you will have total freedom of when and where you eat. Some holiday companies will do a shop for you and stock up your fridge for when you arrive. However, you need to keep in mind that you will need to go shopping at some point during your holiday. You can book private chefs to cook for you or order restaurant quality food to be delivered to your door, to make life that little bit easier.
Many families love the benefits that come with staying in a catered chalet. Personally, I think it makes life easier, as everything is taken care of and all you need to do is make sure that you are enjoying yourself. Chalet hosts will cook you breakfast and evening meals during your stay. They are also a great source of information to help you get the most out of your holiday. Some chalet companies will drive you to and from the slopes too.
Go In A Group

It is a good idea to travel with family and friends with kids of a similar age. Kids will enjoy going to ski school and doing the other activities with someone they know, rather than them going on their own. The other advantage of this, is that you can book out a chalet and have it all to yourselves.
Group holidays can work in a self catered property too, but the adults need to be very organised and OK with doing the cooking. If one property isn't large enough for your group, why not choose two separate properties close to each other? The advantage of two properties, is that you may be able to disappear to your own quiet haven at the end of the day. This works especially well for multi-generational holidays when grandparents go with you.
A large group makes the holiday more fun for kids and for the adults. Depending on your group, you have the potential of having a house party every night.
Skiing Holidays With Babies and Toddlers

Many parents will naturally think that going on a skiing holiday with a baby or toddler wouldn't work. It is common to wait for four or five years before heading to the mountains with a child. However, do you really want to miss out on a few years of skiing? This becomes more of a sacrifice if you have more than one child within this time. The main things in parents minds that puts them off taking a baby on a ski holiday, is the idea of having to carry all the associated paraphernalia and not being able to get enough time on the mountain.
This does not have to be the case. When it comes to all the stuff you need, many chalet companies already have it available for you. Cots, highchairs, cutlery, stair gates, push chairs etc are usually provided on request. Just make sure that these are all available when you book your holiday.
Getting time on the mountain with your partner can be a bit tricky. Many parents alternate between mountain time and taking care of their baby. One will ski in the morning and then swap for the afternoon. However, you can book nannies to look after your baby for those times you want to go on the mountain together.
It is quite common for grandparents to join your family skiing holiday. The multi-generation holidays are great, as parents get to have some mountain time while granny and grandad get to spoil their new grandchild.
Safety
PLEASE DON'T go skiing with your baby on your back. This is super dangerous, even if you are the best skier in the world. You never know what could happen.
One thing to consider when it comes to choosing a resort, is that babies can be affected by altitude. Therefore, if you pick a high resort, a week away may not be pleasant for you or your crying baby.
Don't be put off by bringing a baby on a family skiing holiday. It takes a bit of organisation, but using these tips, you will find that it is totally worth doing.
Skiing Holidays With Young Children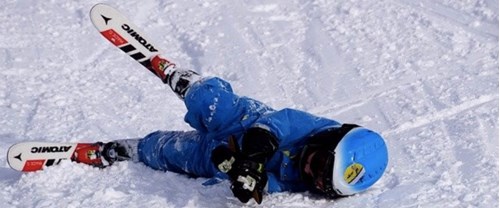 Kids usually start skiing from age three, but some ski schools will take children as young as 2 for group lessons, but it all depends on the child. You have to consider how active your child is, but crucially the size of their feet is a huge factor. This is because hire boots usually start at size 22/23.
It is a really good idea to book some lessons for young children. Ski schools are not just glorified child care options. Your child will learn the basics of skiing by playing games in a fun environment. They will also develop their concentration, motor skills and balance. Kids learn quickly and will be turning by the end of their first week on snow.
When dropping your child off at the ski school you need to put your trust in the instructor and in to your child. They will be in good hands, so you don't need to worry, which means that you can enjoy your time on the mountain. Make sure that you don't hang around when you drop them off. By staying, you unintentionally put pressure on your child. Just let them get on with it and show that you have confidence in them.
You are not an instructor (probably)
When skiing with your child, you may be tempted to try and teach them yourself by putting them between your legs. This is not advised for a few reasons. Firstly, it is bad for your back, but it is actually really dangerous. You may fall on top of them and you can't really keep an eye on what is going on around you. Doing this is also bad for their technique, as it hinders their progress and they become reliant on leaning back, which is a bad habit that is hard to get out of.
Snowboarding
There is a common misconception that you shouldn't start your child snowboarding straight away. You can actually put a child on a snowboard from the age of 2. However, it should be done as an additional sport to skiing until they are about 6 years old. This is because asymmetrical sports are not great for their development at such an early age. But, there is nothing to stop them trying it out and letting them decide if they want to be a skier, a snowboarder or both!
Skiing Holidays With Teenagers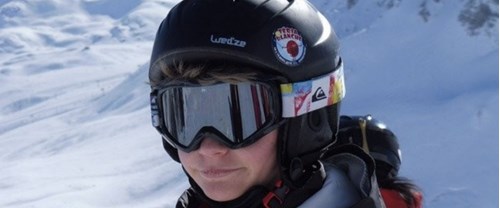 Young teenagers want a mix of hanging around with you and their own freedom. Therefore, a resort with a good selection of snowparks is good for taking teenagers on skiing holidays. Also, choose a resort that has a good selection of blue runs with easy ways to get back to the main village. This should help you feel more confident about letting them explore on their own.
Older teenagers are not really kids anymore, which comes with lots of benefits. You will be able to ski further and longer together. Also, they are more independent, which means you are too! Just make sure that mobile phones are charged up each day so you can stay in contact with them. It may be a good idea at this point to drill in to them that they should not be going off-piste, as this can get them in to trouble.
A great thing to do is book them in to group lessons. This is especially fun if you have a group of teenagers that are of a similar standard. By booking an instructor, they will enjoy an exceptionally fun day on the mountain. This will also keep them out of trouble.
Kids Ski Lessons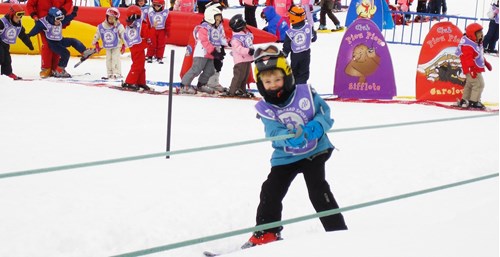 The chances are, if you are taking kids on a family skiing holiday, you will need to stick to school holidays. These are busy times and lessons get booked up quickly. Therefore, book lessons when you book your holiday to avoid disappointment.
There are lessons for all ages and levels of skill. Group lessons are great fun, as your kids get to meet other kids during their holiday. If you have a group of kids of a similar skill level, why not book an instructor to teach the whole group. This way, you get a more personal touch and your kids can all learn and progress together.
Top Tips For Family Ski Holidays


Image Credit - Cheap Snow Gear Ltd
School Holidays
If you can avoid the school holidays, you will save some money. This is because ski holidays tend to be much cheaper the rest of the time. You will need to get permission from the school, so make sure you do this before booking your holiday.
For those of you that can't avoid the school holidays, a great time to book is during the Easter holidays. Generally, it is cheaper, as it is less snow sure. However, the temperatures are milder and you get more daylight hours, making it a very pleasant experience.
Keep it Easy
For those of you booking your first family ski holiday, I would recommend going for the easiest option of a catered chalet. Also choose a holiday company that offers lots of extra services. These services include, having your lift pass ready for you on arrival or a list of recommended ski schools and nannies. By choosing a reputable company with lots of experience in the resort, you will have a company that will know exactly what your needs are (even if you don't) and everything will be in place.
It is possible to hire ski clothing in some resorts. This is ideal, as you don't need to buy clothing that will be too small for your kids the following year.
Don't forget your suncream! In fact, take anything essential with you. There are obviously pharmacies and shops to buy stuff, but it is better to have it than hunt around a resort with funny shop opening times for something you need immediately.
When you book
When you book your transfer from the airport and back, make sure that you let your transfer company know if you need a child's seat fitting in the transfer bus.
Make sure that you book ski and helmet hire in advance. This way you will be sure to have everything you need before your arrival.
Getting some practice in before the holiday is a great way to start. Book some lessons at an indoor snow centre a few weeks before the holiday. Your kids will get used to the equipment and get an idea of what to do when they get on the mountain. As additional practice, it is a good idea to "play dressing up" games. By doing this a few times before you go on holiday, your kids will get used to getting ready for a day on the mountain. This saves a lot of faffing in the mornings and builds excitement for the holiday. Make it fun by taking photos and get them to pretend to ski while watching videos with them. You can even watch ski lesson videos on YouTube.
By the end of their first ski holiday, your kids should be linking turns and be eager to show you what they can do. Therefore, finish the holiday together by skiing the slopes that they are comfortable with. This is the perfect time to take lots of photos and video footage. This footage is also great to get them hyped for the next ski holiday.
What To Take

When it comes to taking kids on holiday, packing can be awkward. But, here are some tips on what to bring with you.
Clothing
Take lots of layers - When you are learning to ski, (no matter what your age) you can go from hot to cold very quickly. The best way to cope with this is to wear layers, as you can take them off and put them on as required.
More than one pair of gloves - Making snow men and throwing snowballs makes your gloves wet. Have a spare pair to make sure that there is always a dry pair to wear.
Pack light - You will be surprised how little "normal" clothes are worn on a ski holiday. Therefore, don't stuff your suitcase with loads of clothes and save the space for ski clothing.
Don't worry if you think you will run out of clothes - Many apartments and chalets have washing machines. However, check with your chalet host if it is not being used for bed linen etc, as they are often in use.
Warm outdoor boots - Snow can be deep, especially when you have short legs. So a good pair of warm boots with good grip is essential. Wellies are not advisable. This goes for you too. There is a huge chance that you will be walking up and down a hill with a sledge, so make sure you have comfortable and dry feet.
Indoor shoes or slippers - Many chalets have a "no outdoor shoes" rule. Therefore, make sure you bring something comfy for walking around the chalet.
Other stuff
Specialised baby food - This includes formula and anything else your baby is currently feeding on.
Nappies etc - You can buy these at the supermarket, but bringing a supply to get you started is a good idea. Some holiday companies will do a shop for you before you arrive. If you place an order in advance, these essentials can be waiting for you at your accommodation, meaning that you only have to carry the bare minimum for travelling.
Aqua nappies and a swim suit - Many resorts have swimming pools, so these are a good idea for those afternoons off the mountain. Don't forget that some pools only allow men in with budgie smugglers!
Plug adapters - These are essential for charging up toys, baby monitors etc
Toys and essential items - Don't go overboard with this, but a small selection of things to keep kids occupied is a good idea
Why Morzine Is Great For Family Ski Holidays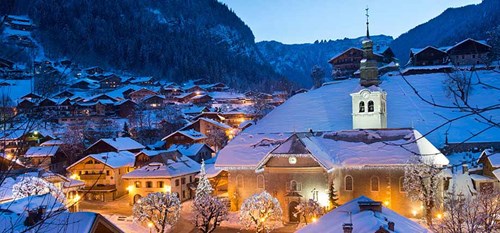 More Mountain is a holiday company based in Morzine and we have been here since 2008, so we know a few things about this wonderful place. It is ideal for many different types of groups of skiers and snowboarders, but Morzine attracts lots of families every winter. Here is why.
The Slopes
There are loads of family friendly ski slopes in Morzine and some are specifically designed for kids. For very little kids and beginners, the Pleney side of the valley has easily accessible green runs. One of them has a magic carpet, to to get your legs in before taking on the drag lifts and chairlifts. There is also the kiddie friendly Penguin Park. This is a super easy run with loads of fun features for kids to ski through, round, under and over.
On the Super Morzine side of the valley in Avoriaz, there are a few wide green runs with the perfect gradient for learning how to ski. In addition to these, kids who have got to grips with the basics, can take on the 'lil Stash and ski around Shreddie's tree house suspended in the trees next to the Proclou green run.
Once your family has graduated from the green runs, there is a huge selection of blues to choose from. These are great fun, especially when you are ticking them all off as a family.
The Location
Morzine's closest airport is Geneva. This is only an hour and thirty minutes away on a transfer bus, making it one of the most popular ski resorts for British holiday makers. It is located in the Northern Alps, so as ski resorts go, it is actually quite easy to drive to from the UK. Morzine is also really close to Switzerland and Italy, so if you wanted to extend your holiday and see other areas, this is easy to do.
The Village
The village of Morzine is easy to get around. If you don't feel like walking, there is a bus and a little train that will take you around for free. When you are skiing on the Pleney side of the valley, you can ski to Morzine itself and its bus stops. If you are skiing in Avoriaz, you can get the Super Morzine lift back down or get a bus from Prodains or Ardent. No matter where you are skiing, it is easy to get to and from the slopes from the village.
Child Care
We have built up a list of tried and trusted child care providers. We only work with the best and the ones we recommend are loved by kids and parents every winter.
The Ski Schools
Morzine has a lot of ski schools. There is the French ESF, but there are lots of independent ski schools, all with British or English speaking instructors. We advise that you book lessons as early as possible, especially during school holidays to avoid disappointment.
The Accommodation
At More Mountain, we have a huge range of catered and self catered properties to choose from. All of these properties are modern, well located and stylish. Guests in our catered chalets are looked after by our fabulous hosts, who will cook breakfast and dinner and keep everything perfect for you. These guys are a great source of information and will be able to advise you and answer any questions. They will even drive you to and from the slopes, to make life even easier!
If you opt for one of our amazing self catered properties, don't worry you will be well looked after too. Our concierge service will have everything ready for you when you arrive. They will also be on hand to make sure that your holiday is going as smoothly as possible and to answer any questions you may have.
All of our properties have big TVs, games consoles, DVD and a few other things to keep kids entertained.
For families with smaller children, we can provide cots, high chairs etc, but please let us know if you need these when you book your holiday, so we can have everything ready for your arrival.
Would you like to join us in Morzine?
Morzine ticks a lot of boxes for family ski holidays. It is easy to get to, has easy to access family friendly pistes and has plenty of other things to do.
If there is anything else you would like to know, please contact us. We are more than happy to answer your questions and share what we have learned over the years living in Morzine.