Our Favourite Restaurants in Morzine
There are so many restaurants in Morzine, picking one can be quite a tough task! If you're here staying in one of our luxury apartments or chalets, the last thing you want to be doing is wandering the streets looking for somewhere to eat. So we've had a little look at what's on offer to come up with mini guide to eating in our little town. Whether you're looking for Savoyard tucker or something a little more basic like pizza and chips, there's something for everyone.
We recommend that you make a booking in advance as these are Morzine's most popular choices. We have included all the phone numbers and online booking links below and they all speak English.

La Grange +33 (0) 4 50 75 96 40 Book a Table
We work closely with Alex & Fred at La Grange - they provide our delicious gourmet meals on wheels for our self catered apartments. La Grange is a traditional, alpine restaurant in the centre of Morzine. It can be found at the top of the Rue de Bourg near to Cafe Chaud and has a lovely homely atmosphere. Alex runs the front of house with her French hubby Fred in the kitchen. Warm and friendly, the menu is full of home cooked Savoyard specialities but is also mixed with great steaks, fish and salad options if you're looking for a break from heavy cheesy dishes. They try to source local where they can. It also has a good children's menu adding to the family offering. We always find that the atmosphere at La Grange makes for a great evening and is strong fav of ours, especially at Christmas!
La Dez'Alp +33 (0) 4 50 79 81 52 Book a Table
Located on Rue du Bourg La Dez'Alp offers something for everyone so is a great choice for large groups and families. The large menu focuses on traditional savoyarde favourites (think French onion soup, Raclette and Fondue) but also has great choices if you fancy a pizza, salad or burger. It's cosy inside with great views over the valley and a heated outdoor terrace in winter.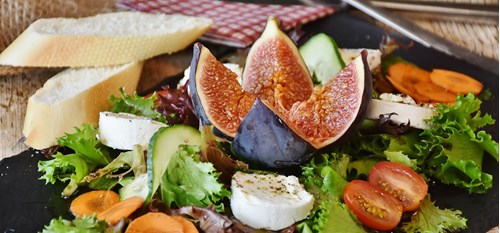 Le Clin d'Oeil +33 (0) 4 50 79 03 10 Book a Table
The Clin d'Oeil is another More Mountain favourite. It's located near to the Mairie, just opposite our La Poste Apartments and is a lovely place to go for a special evening out. It has a varied menu with some great Savoyard specialities and southern Duck dishes. The steaks and chicken are also fab! The staff at Le Clin d'Oeil are extremely friendly and always happy to help and they are great with kids, speaking of which the kids menu is excellent and a bit more grown up if you have little foodies in the family. They also have a great wine list.

GUSTO-e-Basta +33 (0) 7 49 05 95 40
Gusto e Basta is a fabulous little Pizza place at the bottom of the hill close to Chalet Robin, Chez Hibou, The ARK and Crows Nest. Born from Italian roots, the family that run it are wonderfully friendly and really know their Pizza and Pasta. Simples choices but with the freshest of ingredients, it really is AMAZING Pizza. Our 7 year old loves it and the food is delicious!!! Shhhh.... don't tell everyone. They also do Takeaways but sitting in is a very pleasant easy going experience. Give them a call - they are super friendly and speak great English.
Hideout Restaurant +33 (0) 7 68 63 48 21 Book a Table
A new and Hipster style of restaurant, minutes walk from Chez Hibou and Apartment Terrasse du Soleil. The food is completely different for Morzine, Asian and Mexican inspired so is very popular with locals because of this. Pre-Book - Getting a table is a must! 
La Chaudanne +33 (0) 4 50 79 12 68 Book a Table
This is a firm favourite for guests at Chalet Jirishanca, La Cornette and The Townhouse as it's on the Super Morzine side of town. La Chaudanne is famous for its glass floor and basement wine bar. It's had a recent renovation too with a lovely covered terrace and dining space with large floor to ceiling windows. They serve a great selection of meats and fish and also offer a good value set menu. More fine dining than Savoyard - if you're looking for a break from heavy cheesy dishes, this is a good option. The atmosphere also makes for a great evening!

The Bec Jaune +33 (0) 4 50 79 08 44
The Bec Jaune is becoming a firm favourite because of its incredible beer and tasty "hipster" style menu. The microbrewery style bar serves different ales and beers each week. It has a new choice of food including spicy rice bowls, noodle dishes and then there's the usual burgers and buns making it a great spot to refuel after a day on the slopes. It's a good place for everyone as it's hassle free, affordable and easygoing - the only problem is it gets packed so if you can book, do so!
La Rotonde +33 (0) 4 50 79 16 30 Book a Table
La Rotonde is Sam & Jon's favourite. Great food and ambience if you're a fan of good steak, meat, cheese and pizzas. You'll find it at the top of the tourist office square - it has a new large covered heated terrace which is super cosy in winter and fabulous in summer. La Rotonde is a little more up market & great if you are looking for something a bit more special. The ambience is spot on, you don't feel rushed and Francois, the man in charge is super friendly. It's also a good choice if you have kids as they offer an early sitting at 6.30pm with a great kids menu.

L'Atelier +33 (0)4 50 79 00 79
L'Atelier is attached to the Hotel Samoyede and serves delicious food in a fine dining environment. In a class of its own this is the closest restaurant in Morzine you'll find to having a Michelin star. Beautiful presentation and fine cuts of meat make this a good choice for special occasions. The Bar is also very pleasant and a bit more up market.
La Flamme +33 (0) 4 50 75 78 09 Book a Table
Located right next to the Super Morzine lift and suspension bridge makes this an ideal choice of restaurant when staying in our Panoramique apartment or Chalet Jirishanca. Having had a recent refurbishment, it's super stylish dining area with new glass floor is definitely worth a go... La Flamme offers relaxed and friendly service with a great range of local specialities and pizzas along with steaks and meaty favourites. They also offer a great coffee stop on the morning en route to Super Morzine telecabine!
La Ferme de la Fruitiere +33 (0) 4 50 79 12 39
If cheese is one of your favourite foods then you shouldn't miss a visit to La Ferme de la Fruitiere. The restaurant boasts a great atmosphere with a huge central fireplace, making it super cosy in winter. It is one of the more pricey restaurants in Morzine but the fondue and raclette come highly recommended and the quality of meat cuts are excellent.
The Coup de Coeur & La Chamade +33 (0) 4 50 79 13 91
If you're feeling like you've over indulged a bit but need something to nibble alongside a lovely glass or two of wine then the Coup de Coeur might be a good option for you. It's in the middle of tourist office square and has fluffy sheepskins over the chairs in winter. It offers croques, cheese & ham platters, salads and pizzas alongside a wealth of different wines from across the region. They give you a great selection of small plates to go with your drinks during après hours as well so is a lovely spot to head to for the last hours of the day. It's a more upmarket restaurant La Chamade opposite offers french favourites in a beautiful environment with a focus on local ingredients.
O'Chalet +33 (0) 4 50 79 17 18
A firm favourite with our chalet hosts, O'Chalet is the place to go if you want a quick bite to eat. They do some of the best burgers in town and also offer a range of crêpes and paninis. You can't book a table but expect quick service, more of a place to grab a bit to eat and then move on to a bar.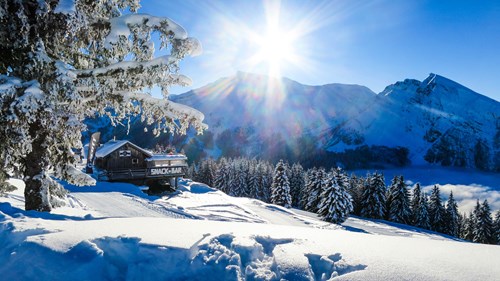 Super Morzine, sun down
Hopefully our guide makes choosing your dinner spots a little easier. If you're not too full after all of the food then don't forget to try crepes from Chez Seb, cake from the Bonbonniere and cheese from L'Alpage! You certainly won't leave Morzine hungry!