The Taste of the French Alps - Tartiflette
The Taste of The French Alps
Every region of the world has its own style of food, usually derived from what is traditionally available in those regions. The Savoie region of the French Alps, where Morzine is situated, has many delicious local ingredients to make the most of. But, for most people, the taste of the French Alps brings to mind cheese, cheese and more cheese (maybe with some meat and potatoes thrown in for good measure).
These local specialities originate from when olden-day mountain folk had to survive being stuck up a mountain for large parts of the year, due to being snowed in, and only had their stores of meat, cheese and potatoes to sustain them.
Whether it's a bubbling Fondue, or a delicious Raclette - French mountain food tends to be rich, heavy and extremely tasty!
So we are starting a short series of blog posts to help you decide which one to choose on your next visit to the French Alps. This will come in handy if you are staying in one of our self catered apartments or fancy something local on the chalet host's night off.
We are kicking off with one of our favourites: Tartiflette.
Tartiflette
Ingredients don't get much better than gooey cheese, potatoes and bacon all layered in a creamy white wine sauce and baked to perfection. In our opinion, there's nothing better than finishing up a big day on the mountain with a bubbling Tartiflette and some delicious French wine.
From the traditional recipe to a trendy deconstructed versions, tartiflette is served in pretty much every restaurant in Morzine. You can even get tartiflette pizzas!
The key: Reblochon Cheese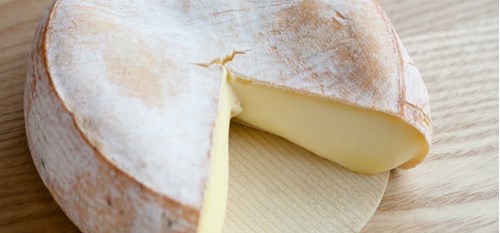 Reblochon is a rich, creamy local cheese and is the traditional cheese used in tartiflette. The word Reblochon derives from "reblocher" which weirdly means "to pinch the cows udder again". This is because in the 14th century farmers were taxed on the amount of milk their cows produced. So they would not fully milk their cows until the land owners measured the yield. The remaining milk was much richer, making their cheese that much creamier.
Obviously Reblochon is very easy to find in Morzine, but it is still available in the UK. Good delicatessens, cheese shops and artisan markets do stock it.
If you can't find Reblochon then Port Salut cheese, which is widely available in most British supermarkets, will work as a substitute.
Tartiflette Recipes
Tartiflette is an easy dish to make; perfect for cold winter nights and great for feeding a crowd.
Below is the More Mountain Secret recipe, which we serve to our guests in our catered chalets The differences are that the traditional version layers the cheese and potatoes, while our version has the cheese pushed between the potatoes and has a very wine-y sauce. Nyom!!
Tartiflette is best served with charcuterie, fresh crisp green salad, cornichons and a decent bottle of wine. For vegetarians, you can substitute some chopped chestnut mushrooms for the bacon bits and add some smoked paprika. Washed down with lashings of white wine.... of course!!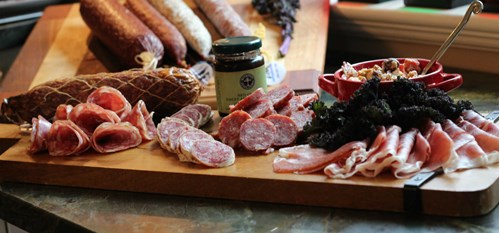 The More Mountain Tartiflette Indulgence!
Serves 6-8INGREDIENTS
16 medium sized waxy raclette/jersey royal style potatoes (approx 3 per person)
200ml of cream
750ml Creme Fraîche (4% - 15% fat or thereabouts)
4 large onions, thinly sliced using a mandolin if possible
400g smoked bacon lardons
200g unsmoked bacon lardons
3 cloves garlic - diced
1 bottle of dry white wine
Salted butter to fry off onions and line the baking dish
Black pepper & Rock Salt
2 Reblochon Cheese Rounds (450g each, so 1.35kg in total)
Optional: 150g grated Comté cheese or mature Cheddar
METHOD
✽ Preheat oven to 180°C (350°F/Gas 4).
✽ Slice potatoes in half or leave them whole if smaller than an egg, but leave the skins on.
✽ Boil them in salted water until firm, not fluffy (about 15 minutes). Then drain them in a colander, rinse them off under cool water, set aside and leave to cool.
✽ Fry off the chopped onions in butter until translucent - not browned. Very important! Next add the garlic for the last 2 minutes. Then deglaze the pan with a glass of white wine.
✽ Add bacon lardons once the wine has reduced and stir and cook until soft, not crispy, for about 5 minutes.
✽ Meanwhile, butter a large ceramic baking dish. Approx 30 x 25 cms and 5cm deep.
✽ Add a splash more wine to deglaze the pain again. Add the creme fraîche and reduce down.
✽ Add 1/2 of the cream and reduce again.
✽ Add another glass of wine and stir well, before adding the rest of the cream and some black pepper. You should have a runny creamy bacon and onion sauce, the consistency of thick custard.
✽ Put the drained potatoes into you pre prepared buttered baking dish whole. This is the secret: Squash each spud ever so slightly, so they are slightly crushed with the back of a spoon or your thumb, just enough to burst them out of the skin. You don't want mashed potatoes!
✽ Slice each Reblochon round into 16 small wedges, keeping the rind on the cheese then squeeze and nuzzle the cheese wedges in between every other crushed potatoes, spacing equally so everyone gets a decent portion.
✽ Pour the creamy onion and lardon mix over the potatoes.
✽ Tilt the pan to evenly distribute the cream and lardons.
✽ Add a the rest of the wine over the top of the dish and freshly cracked black pepper. Tilt the dish side to side to distribute the extra wine evenly. For extra deliciousness, sprinkle some grated Comté or Cheddar cheese on top and season again with S&P.
✽ Bake for 45 mins on the top shelf until golden brown and bubbling at the edges!
Oh... and Don't forget the Génépi. Bon appétit!