Winter Activities In Morzine
If you need a change from skiing or snowboarding or if you are a non-skier? There is a variety of winter activities to do during your stay in Morzine.
We've got some great ideas if you need a change from skiing or snowboarding, or if you are a non-skier and you are looking for a variety of activities to do during the day, Morzine has got it all!
We also have a great blog on non-skiing activities if you need some more inspiration or information. You may need to pre-book these activities so look at arranging them at the start of your holiday.
Snowshoe Treks
Snowshoeing is a winter sport in which you wear specially designed gear on your feet which distributes your weight, allowing you to walk on snow without breaking through it. Different options are available from half-day themed walks (Wildlife, panoramic views etc.) to day-long treks with a mountain chalet lunch or evening torch-lit trek. Snowshoeing is a great activity for non- skiers, families and children, injured skiers on a rehabilitation programme and mountain enthusiasts who want to learn more about the winter mountain environment at a slower pace.
Magical Snow Treks
DaysAway Adventures
Alpi'raquettes
Paragliding
Introduction, Initiation flights and training with professionally qualified instructors. Accompanied flights, small-sail training sessions and courses/lessons for all levels.
Night Time Sledging
Accompanied by professionals – sledge down the closed Pleney pistes with only a headlamp lighting the way. Brilliant fun, the only way to describe it is like real life Mario Kart on the piste! Finish off at the Pleney for some après at the Tremplin.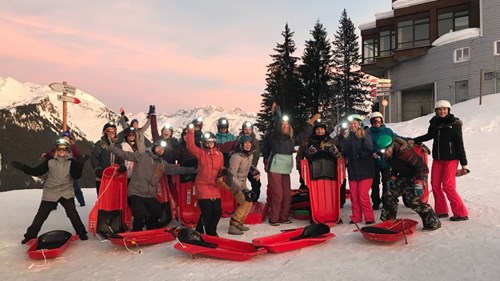 Snowmobiling / Ski-dooing
Ride through the Proclou forest on Super Morzine on a single or double seater ski-doo; open daily from 5.30pm to midnight, duration 45 minutes. To drive you must be 18 years of age and have a driving license. Children can come along too for a ride (minimum age 4). They also have mini scoot for children from 10 years. Wear your ski gear and don't forget your gloves and goggles.
Ice Diving
Not for the faint of heart, explore the frozen depths of Lake Montriond
Plongee Sous Glace
Helicopter Flights
Panoramic flights of the Portes Du Soleil & Mont Blanc mountain ranges (departing from Avoriaz)
Mont-Blanc Helicopters
Blugeon Helicopters
Ice Hockey
Les Pingouins are the local Ice hockey team. They are fabulous to watch and feature a lot of homegrown & international players. You can see them play at the Palais du Sport, buy tickets from the Tourist Office or on the door at the ice rink. To see the dates of the fixtures visit the website.
Hockey Morzine
Swimming
Visit Morzine's indoor swimming centre which features a fitness pool, learners pool, baby pool, Hydro-fitness area (with 3 saunas & 2 steam baths) and restaurant.
Parc Des Dereches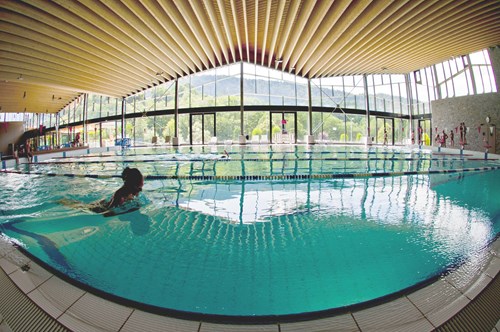 Aquariaz
If you want to make a trip up to Avoriaz they have a fabulous swimming pool with pools, waterjets and slides in a tropical paradise.
Ice Skating
Indoor Ice Rink
Located under the suspension bridge, close to the Super Morzine telecabine. See the website for the opening times, you can hire the skates too.

Outdoor Ice Rink
Located outside in the Tourist Office square. GREAT FOR KIDS!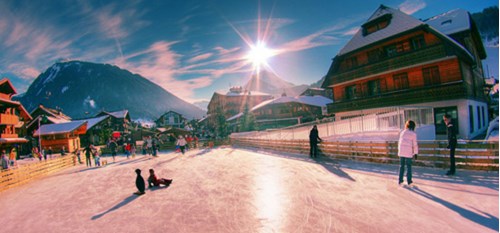 Yoga, Pilates and Gyms
We recommend the Yoga Studio in Morzine for classes, it a lovely space and there is plenty of choice for teachers. The yoga teachers also offer private yoga classes in your chalet or apartment. Here are our favourite teachers:
Strength & Serenity Yoga
Yoga Studio Morzine
If you are looking for Pilates we recommend:
Mountain Rehab Morzine
Georgie Kennington Pilates
For Fitness classes or a visit to the gym:
Project Performance Morzine
The Hive by Buzz Performance
Mountain Rehab Morzine
Learn French in Morzine
Morzine has its own French school based a 10 minute walk from the town centre. The Alpine French School runs French intensive courses every week, so no doubt they will have space for you. The classes have a maximum of 12 students from all ages and nationalities who tend to all get on and get together for skiing and other activities during the busy seasons.
Their teaching methods are quite unique and like to focus mainly on conversational skills so you can practice the grammar and the vocabulary you learn on the spot, which gives great satisfaction straight away! They have purposely planned the intensive classes late in the afternoon or first thing in the morning so you can make the most of the snow in your free time and the Super Intensive course is now 4 hours a day for those who don't ski much or those who want to concentrate on their French. Private lessons are also available should you want 1-1 time with a teacher.
Outings and Visits

Eagles on Nyon
A unique opportunity to take nature walks accompanied by eagles in the Nyon area of Morzine. You can also flight demonstrations inside and outside the restaurant on the Nyon plateau.
The Cheese Dairy
Watch the cows being milked on a Tuesday & Thursday at 10am in the Nants village. Cheese-making demonstrations and a visit to the cheese maturing cellars on a Wednesday & Thursday at 9am in Fruitiere de Morzine.
Horse-Drawn Carriage Rides
Large choice of trips around Morzine; tour of the old, the different hamlets, ride up to lake Montriond. Tours start from €15 at the tourist office square. Book on the spot.
Horse Drawn Sleigh Rides
These are available in Avoriaz which can be accessed by the Prodains Telecabine. Visit the Avoriaz Tourist office website for more information.
The Morzine Slate Mines
Guided visit of the local Morzine slate workshop with Franck Buet: Learn of it origins, understand how the slate is crafted and watch the craftsmen in action. Visits are on Fridays at 10.30am - Adults €5/Child €3. Book by calling 0033 450 791 221.
In Chalet Entertainment
Great for a staff night off in a catered chalet, or something completely different for your group! These guys will come to your accommodation and give you a completely bespoke cocktail masterclass. By the end you will be able to make all your favourite cocktails, and drink them too! They also offer the chance to add on canapes and nibbles to the package to make this the ultimate night in.
Chris Beer Consulting
For anyone who is really into their beer, this is the ultimate experience. Chris offers many different packages from a tasting workshop, to whole day trips to visit craft breweries around the Haute Savoie, finishing off in Morzine's very own Bec Jaune. Email Chris for more information [email protected]