14 Alpine Activities for an Exciting Summer Holiday
Day to day work and family life can be hectic. The constant juggling of roles, chores and responsibilities can become very draining, after a while.
That's why a change of scenery, summer holidays and in particular family holidays are so valued. Time together is precious and as all individuals, couples and families are unique, hence a 'one size fits all' holiday option doesn't work. By opting for a more tailor made experience, you can choose the best fun-packed solutions for you or your family.
Why Is Morzine a Dream Summer Destination for Everyone?
Morzine offers the perfect base for an exciting summer holiday. There's something to inspire everyone. The thrilling activities and experiences will impress the most diverse of families and adrenalin seeking couples or individuals.
Outdoors enjoying nature
What can be better than getting up close with nature and rekindling that love of the outdoors?
De-stress in the pure mountain air
People have been visiting the mountains for many decades to enjoy the health benefits they provide. There is something very tranquil about relaxing at altitude in an alpine setting.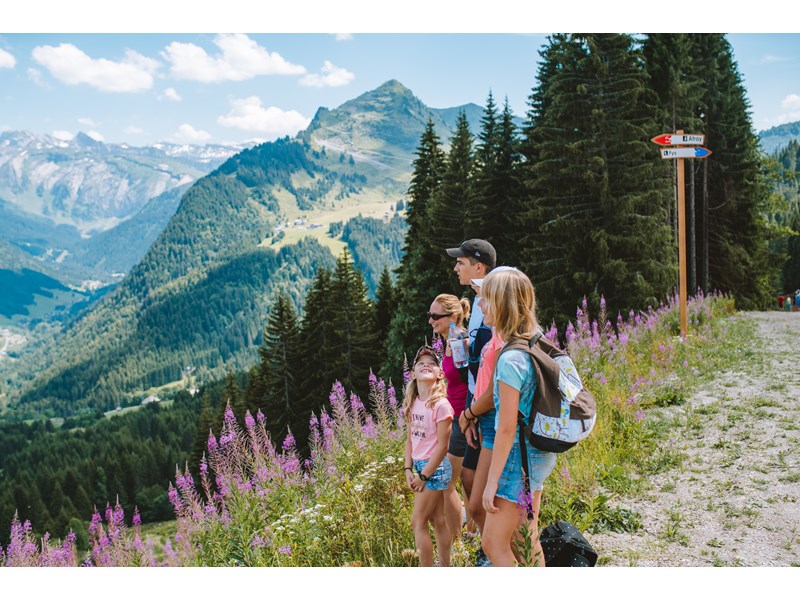 Re-connect as a family, couple or group
Having time to enjoy each other's company and the fun of doing things together, will provide great memories and bring you closer.
Enjoy temperatures to match a beach holiday
If you think that Morzine is a cold place in summer, then guess again. In the height of summer, there are about 10-11 hours of sunshine per day. Average temperatures during the day reach the high twenties, with the advantage of cooler evenings for a good night's sleep.
Stunning views of Snowcapped Mountains
Believe me, you will never tire of the ever-changing mountain views. We have lived here for many years and are still captivated by the dramatic vistas of the Morzine landscape.
Zillions of activities to keep everyone happy
There are plenty of adrenalin filled and chilled activities to choose from. I promise you will struggle to do all the experiences on offer, when you are on holiday in Morzine. That's no problem - it just means that you will have to return for another holiday.
Morzinoise hospitality and luxury
Enjoying the friendly town of Morzine is easy - soak up the very relaxed vibe which oozes tradition and culture while enjoying the many bars and restaurants in the sun. Stay in luxury accommodation with a central location, at much lower prices compared with those in winter.
Fantastic summer events
There is always something going on during in Morzine in the summer. Morzine hosts many events for various sports, music and motorsport. Have a look at this blog to see just some of the events you could be a part of during your summer visit.
Why Is the Morzine Multi Pass Great for Everyone?
What is the Multi Pass scheme?
The Multi Pass scheme gives great access to many indoor and outdoor activities within the whole Portes du Soleil area during the Summer - all for just €2.50 per day! And it's not just for kids… adults can enjoy plenty of activities on the multi pass scheme. The peaks and valleys of the Portes du Soleil are vast, linking 12 resorts over the French and Swiss alps, and we can arrange passes for you or your family when you arrive. See the official website here : Portes Du Soleil Multipass
What activities does the multi pass cover?
22 mountain ski lifts for walkers (bikes are not included)
Swimming pool and spa
Nearby lakes
Several local cultural centres
Ice rink
Tennis courts
Mini golf
Tourist train
Inter resort buses
What Is There to Do in Morzine?
It would be much easier to say what you can't do in Morzine. Variety is the name of the game and there is something for everyone, irrespective of age. Explore the natural playground of the mountains and choose your favourite activities and experiences in the area.
1. Hiking in the mountains
Hiking in a group, as a couple or with the family is made all the more exciting when combined with travel on the many chairlifts which are open during the summer months. Why not take a picnic and savour the local produce whilst exploring 800km of trails? Here's a great guide to some of the best hiking routes in the area. Children as well as adults enjoy exploring the mountains on foot! Take a cable car up to the summit and enjoy a mountain hike through the mountain trails and you will see stunning meadows, views and there are also some impressive waterfalls such as the Cascade de Nyon. 
2. Mountain biking
Mountain biking in Morzine is an unmissable and amazing experience. The Portes du Soleil has over 50 downhill trails and 5 internationally renowned bike parks, serviced by 22 mountain bike equipped chairlifts and gondolas. Take a look at our recent blog post "Mountain Biking in Morzine" for some in-depth info and advice.
3. Road Biking
This is a growing activity here in Morzine in Summer. With its affiliation to the Tour de France, which passes through the town pretty much every 4 years, plus the arrival of the Etape du Tour last year, Morzine is now firmly stamped on the map as a mecca for lycra clad road bikers. Plan your routes with this handy road biking guide from the Tourist Office.
4. Summer Luge
Tobogganing down the mountain can be a solo experience for older children or something you experience together, with the younger ones. The toboggan sets off down a track, like a bobsleigh but without the snow!
5. Fantasticable - Zip Wire across the valley
Fly like superman as you cross peak to peak on a zip wire with Fantasticable. There is also an option for two to travel together, depending on weight restrictions. Remember to smile at the end of the second leg of the zip wire so you look good in your photograph.
6. High ropes and treetop adventures
Morzine's very own "Go Ape" Indiana Parc is a wonderful way to gain confidence as the high ropes course offers challenges for all ages and abilities - they boast that there is something for everyone between the ages of 2 and 102! Or for a more challenging option if your not-so-little-ones are feeling adventurous, there's a more nail-biting treetop adventure playground full of rope swings, ladders and cargo nets near the Waterfalls at Nyon.
7. Via Ferrata
If you have a head for heights, experience the feeling of climbing without the need for expert knowledge. Different climbing aids made from iron, such as cable, rungs, pegs, carved steps and even bridges are fixed along the Via Ferrata routes, which vary in level of difficulty. There are a number of marked Via Ferrata routes in the area that you can tackle with a guide.
8. Parapenting
Get a bird's eye view of the valley and mountains as you soar above Morzine and the surrounding area. Literally run off the face of the mountain and fly like an eagle. All jumps are done in tandem with an instructor who takes care of all the technical stuff, so you can enjoy the views and descent.
9. White water rafting
Take to the water in an eight man raft as you negotiate the rapids by paddling with your fellow rafters under the watchful eye of a guide. Brilliant fun for all the family.
10. Canyoning
Canyoning is just like being in a completely natural water park. With your guide, you follow the river down through rocky paths using slides, jumps and waterfalls. It's a great way of experiencing spectacular scenery in out of the way places.
11. Spend a day at a beautiful lake
Lac de Montriond is great for swimming, kayaking, canoeing and stand-up paddle boarding (SUP). The clear emerald waters of the lake are impressive and it is the place to be on a sunny day. There's no problem if you don't want to venture into the water, as a lovely walk surrounds the lake and there are some great natural spots to have a picnic or BBQ. There's also a great playpark, mini golf and pony riding for kids of all ages! The lakeside restaurants also offer a great selection of food served on sunny outdoor terraces with stunning lake views. 
12. Or jump in the pool
The swimming pool in Morzine's Parc des Dérêches complex is located under the Super Morzine lift in the centre of the town and offers more than 10 sports and leisure activities for the whole family.  
13. Horse Riding at Parc Dereches
Morzine has a large equestrian centre offering horse-riding for all levels including pony rides and birthday parties for young children from 3 years. Dora is always a favourite!
14. Visit the goat village
Les Lindarets is a hamlet also known as "The Goat Village". Goats rule in this village and love to meet new visitors. These four-legged characters are very friendly, especially if you have a bag of their favourite food, purchased from the nearby souvenir shops. You can also pick up a great sheepskin rug here too!
How Will an Alpine Summer Holiday Make You Feel?
As holidays are so short, it's important that the whole family enjoys the experience at the time, but also feel the long term benefits once back at home.
Relaxed - being in a tranquil setting can be very therapeutic
Closer to your loved ones - having time together and doing new things will bring everyone closer
Inspired - new experiences can be truly inspirational and ignite a spark to do so much more
Revived & Refreshed - renewed energy levels will be a bonus
Ready to return to the mountains - you will be back!
The best holidays aren't just about what you do when you're away, but what you can take with you when you leave. If you're interested in trying out Morzine for an action-packed holiday, just get in touch and we'll start planning your family adventure.