Flexi Catering Options & Meal Delivery Services
Ski holidays and catered chalets go hand in hand. Not needing to worry about food shopping, cooking, and the inevitable washing up is an excellent draw for most people. However, did you know that a self-catered holiday doesn't have to mean slaving away over a stove every night?
Self-catering is great for giving you control over when and what you eat while on holiday. Also, there will be occasions when you don't want to cook or leave the warmth of your cosy chalet.
That's where our More Mountain flexi catering options come in.
We Bring The Restaurant To You!

We have been in Morzine for a long time now and know all the best places to eat and drink. So we have teamed up with our friends Alex and Fred from the ever-popular La Grange restaurant to bring you our exclusive "Meals on Wheels" service. We have been working with La Grange for years and consider them to be an extended part of the More Mountain family.
Alex runs the front of house, while her French husband Fred works his magic in the kitchen. La Grange is a traditional alpine restaurant located at the top of the Rue de Bourg near Cafe Chaud.
Every winter Fred puts together a new Meals on Wheels menu using locally sourced ingredients. He does, of course, leave the firm favourites on each season, we particularly like the duck shepherd's pie.
Meals on Wheels is perfect for anyone who does not want to cook or eat out every night but wants to eat restaurant-quality food in their accommodation. This service is just for More Mountain guests - no one else gets it, and we like that!
Based on 2 people sharing, you can have a fantastic meal and bottle of wine for just €25 per person. All you need to do is place your order with us within 24 hours of when you would like your meal. We will pick it up from the restaurant and deliver it to your chalet or apartment. If you are out on the town, we will simply pop it in your kitchen, ready for when you get back. When you are ready to eat, you just need to heat up your meal as per the included instructions and enjoy!
Even if you are not ordering Meals on Wheels, we recommend that you eat at La Grange at least once during your visit to Morzine.
A Word From Alex & Fred
"At La Grange, we are proud to work with the team at More Mountain to provide delicious dinners for your cosy nights in. Morzine is a small town, so our business partners are our friends. We test run the Meals on Wheels dishes over Sunday lunch (although sometimes our shared passion for a nice bottle of wine means we forget to talk about the food!) or chat about new ideas whilst we're out for a hike in our lovely mountains. We love to travel - for us, a perfect holiday always includes lovely food, and we know the More Mountain team feels the same. So whether you're in your chalet or our restaurant we will all be doing our best to make sure you have a great time!".
Approved Private Chefs - Extra Special Dining In Experiences
You may not be staying in a catered chalet, but that doesn't mean you can't have meals cooked for you. Hiring a private chef is another flexi catering option to consider when it comes to feeding your group during your stay.
When it comes to hiring a private chef, we recommend that you book one when you book your holiday. This means you can get your preferred chef on the dates you want.
You can have a week of indulgent food, or have something simple and hearty after a cold day skiing. You could even finish your week off with something special to celebrate a fantastic holiday in Morzine.
We have long standing relationships with the private chefs we work with. Some are personal friends, and some have actually worked for More Mountain in the past. The quality of their food is outstanding, and they are all professional and knowledgeable about their trade and about Morzine. Your chef can be as hands-on with contributing to your holiday experience as you like. Alternatively, they will simply take care of the kitchen side of things and leave you to enjoy your holiday. Just get in touch with them to discuss budgets and tastes. Here are some of our favourites:
Alps 2 Atlantic

Alps 2 Atlantic is made up of Dan and Ruth, who used to be More Mountain chalet hosts back in the day. Dan and Ruth spend their summers cooking for guests in villas in the south-west of France, and their winters here in Morzine. They are part of the furniture, and their experience means that Dan and Ruth "get it" when it comes to what More Mountain guests want.
The fact Dan and Ruth move from the mountains to the coast every season keeps their influences and menus interesting. Their priority is serving great food, but their vast experience in the ski industry gives them a massive understanding of what people want from their holiday experience.
Ruth works the front of house, while Dan has put together menus to suit most requirements. Dan's menus offer plenty of variation from the standard chalet food. For example, if you are a family that likes to eat simple, well prepared, well-cooked classics, he has something for you. He can also give you a bit more refined experience with some exciting flavours and ingredients.
A typical evening with Dan and Ruth begins with you arriving at your accommodation to an avalanche of delicious smells. Whilst you are getting yourselves sorted, relaxing in the hot tub or having a drink, Dan will be busy arranging everything for your evening. When it is time to eat, he will have the table set, and the wine will be at the ready.
During the evening, Dan and Ruth create a laid back atmosphere but efficient and smooth service. They will often chat with everyone about how their day went and maybe help you plan where to ski. And then they clear everything up, get the dishwasher running and leave the place as though they had never even been there.
A word from Dan
"We have a long history working with More Mountain and have a real affinity for what they are about. My menus are continually expanding with a great choice of food with influences from all over the world. Each meal is meticulously tested and tasted before the winter starts. It only goes on the menu if I love it. Furthermore, I am a fanatical snowboarder and surfer with a ton of experience on the mountain. I know the Portes de Soleil like the back of my hand. If you're good, I might give you some great tips on where to ski!".
Chez Toi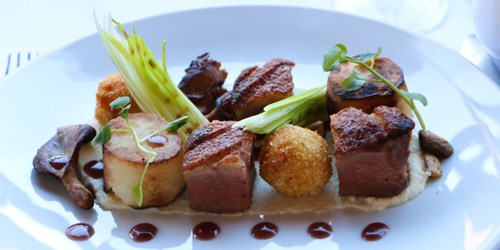 Chez Toi is owned by our good friend Jo, who lives in Morzine and also owns Wild Beets Kitchen in Les Gets. Jo, head chef Pippa, and their experienced team live here year-round. This means they know what visitors to Morzine expect from their holiday.
Throughout summer and inter-season, Jo and Pippa work hard to put together a range of menus for their clients.
Chez Toi prides themselves on excellent customer service and their menus. All of Chez Toi's menus feature locally sourced and seasonal ingredients when possible. Their cooking style is a little bit different from the usual chalet fare. Their menus include dishes with influences from all over the world, including Asia. Chez Toi serves their delicious menus with handpicked wine, complimenting the food perfectly.
Chez Toi has three packages: a Family Classics menu of tried and tested family favourites, a Traditional three-course menu, which is their most popular, and a Luxury 5-course fine dining menu.
On a typical evening, a Chez Toi chef will arrive at the property at around 5.00pm. They will then head straight to the kitchen to get started. While the flavours are being created, your chef will lay the table and prepare everything for your evening. This means you don't have to do anything other than relax and enjoy the experience. After serving the meal, they will clean up and leave you to continue your evening in peace.
We know from first hand that they hit the nail on the head every season, as we get to sample the menus before winter starts!
A Word From Jo
"From the first time we arrived in Morzine, we fell in love with it. It is beautiful here all year round, and with our love of the outdoors, we knew we wanted to settle here.
Our extensive background in catering and hospitality lead us to offer our services as private chefs. Our passion for great food and excellent service means we deliver every time. We tailor our services to each booking, whether you have children, celebrating a birthday or have special dietary requirements, we can offer you something to suit you. We have been working with More Mountain guests for years and know what they expect,
I love snowboarding, and Mountain biking, and spending the inter-seasons looking for new inspirations for our menus!"
Bon App

Bon App is made up of Michelle, Tamsin, and their team. They have been cooking fantastic meals for locals and holidaymakers in Morzine for years. We have eaten their food on many occasions when attending local birthdays and weddings. We have also enjoyed their food at large events put on by local businesses and organisations. But, Michelle and Tamsin have cooked for lots of More Mountain guests over the years. It is safe to say that they totally get what we are about. We love that they use seasonal ingredients, while their experience makes them an excellent choice for your holiday catering needs.
A Word From Michelle & Tamsin
"We've been cooking together in Morzine for over ten years. It's where we've made our homes, raised our families, and we love it. Our backgrounds are firmly rooted in classical cuisine. This gives us the ability to produce a whole range of dishes. We've worked in Michelin starred kitchens, private households, yachts and barges. Picnics and BBQs in a field, castles with no electricity... we're happy in any situation!
We passionately believe in using seasonal, local, homegrown food as much as possible, and living here, it's very easy to do. Our food as an extension of the fantastic community we're lucky enough to be part of and love sharing that with our clients. We believe that good food should be inclusive to all. So rather than using set menus and budgets, we work directly with clients to provide them with what they want. We can provide food for canape parties to formal dinners and everything in between. Our experience sets us in good stead to offer our clients a tremendous stress-free, innovative and reliable experience."
Self Catered Holidays in Morzine Winter 2020/2021
After a quick look through our website, you will see our vast range of self-catered properties in Morzine. These are handpicked by Sam and Jon for their luxury, style and location. Sam and Jon have even had a say in the design of some of these properties. This means our self-catered guests can get the authentic More Mountain experience.
On a More Mountain self-catered holiday, you will be greeted by Carolyn or a member of her team. They will give you the full concierge service and will make sure you have everything you need. They are always on hand to answer questions.
When you arrive at your self catered property you'll find complimentary wine, Yorkshire Tea and a Nespresso coffee machine alongside your welcome pack full of all the information you need. Carolyn and her team can also organise discounted airport transfers, lift passes, ski hire, shopping packs, Meals on Wheels, and anything else you may want on your holiday.
It's Up To You
As you can see, self-catering doesn't have to mean cooking every night or missing out on the More Mountain experience. Flexi catering options mean that you can enjoy restaurant quality food from the comfort of your chalet. Our outstanding properties, team members and extended family of chefs and restaurants will make your holiday one remember. Now you just have to decide who's going to be cooking for you!