Bringing Your Dog to Morzine
If you can't imagine leaving your dog at home when you go on holiday, a trip to Morzine is definitely worth considering. Bringing your dog to Morzine is a great way to bring the whole family on holiday.
Reasons to bring your dog to Morzine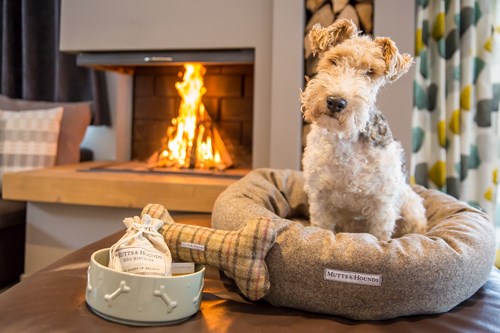 1. Location
Morzine is one of the most northerly resorts in the French Alps. Therefore, as French ski resorts go, it is pretty easy to drive to. With lots of service stations and aires on the way, there are plenty of opportunities to stretch all those legs. Have a look at our blog about driving to Morzine from the UK.
2. Dog friendly bars
Morzine is very dog friendly. If you go in to one of the many bars in Morzine you will usually find a dog under a table or running around the beer garden. During the summer, a few of these bars can turn in to a very entertaining and unorganised version of Crufts.
3. Snowshoeing
Snowshoeing is a great way to see the mountains. There are loads of routes to choose from that are suitable for taking your dog. If you want to go exploring in the winter, you can hire snowshoes in Morzine and get a snowshoeing map from the tourist office. But we recommend that you book a guide. DaysAway Adventures and Magical Snow Treks both offer great dog-friendly snowshoeing experiences, just let them know you'll be bringing your four-legged friend along when you book.
4. Summer walks
There are some great walks straight out of your front door in Morzine. Whether you want to take a stroll along the river where your dog can paddle his toes, or go a bit further, there is always something to do. If you plan your route properly, you can fit in a nice lunch or cheeky glass of wine en route.
You can also go on some pretty epic hikes that you can take more active dogs on. Choose one of the peaks visible from Morzine and go for it. You can also go further afield by using the lift system to cover some extra ground to reach those incredible views.
5. Bringing all your family members on holiday
Holidays are all about spending time together, experiencing new things and creating great memories. Dogs are part of the family, so why not include them in all the fun!? More Mountain have created the Alpine Pups Package to give your furry friends only the best fun and places to stay in the Alps!
The Alpine Pups Package
More Mountain has teamed up with British dog product specialists, Mutts & Hounds, to provide the Alpine Pups Package . This includes a selection of luxurious products, treats and accessories which promise to be of a standard you would expect from More Mountain, so your dog can have a taste of luxury too!
The Alpine Pups package includes:
One complimentary M&H quilted waterproof dog jacket worth £50.
One complimentary sack of M&H chicken baked biscuits.
One complimentary M&H doggy rope toy.
Whilst in the apartment, you will have use of luxury dog products including a M&H cosy bed, food and water bowls and a doggy towel.
We can also offer you a guide to local dog-friendly walks and other activities for you and your pooch and advice on bringing your dog to France (requirements including pet passport, microchipping etc).
OUR BEST Dog Friendly Properties in Morzine
We have seven dog friendly properties in Morzine. These are all self catered and we have agreed with their owners that we will accept small dogs up to 15kg. These dog-friendly apartments have enclosed gardens or secure terraces making them perfect for dogs to stretch their legs or relax, just like us! 
Terrasse du Soleil
Terrasse du Soleil is a three bedroom, two bathroom self catered property. It is ideal for six people and a dog. You can relax in the huge hot tub at the end of your day, while your dog runs around the large enclosed garden. The location of Terrasse means you are just a short walk to town and the nearest bus stop, giving you easy access to great places for walkies.
Super Morzine
Apartment Super Morzine is located less than five minutes walk to the nearest lift, bar and restaurant. The apartment comfortably sleeps five people in two ensuite bedrooms. Its enclosed garden is great for your four legged family member and is easily accessed through the patio door.
Apartment Central
Just a two minute walk in to Morzine, Apartment Central is a fantastic apartment to bring your dog to. Its location means there are some great walks straight out of the front door along the river. It sleeps four people with two bedrooms and two bathrooms. The apartment has a huge enclosed terrace for your dog to run around in safety, while you watch him from your own private hot tub.
Petit Farmhouse
As the name suggests, the Petit Farmhouse is located in a rural hamlet. It is on the Col de Joux Plane (famous for being part of the Tour de France), but it is only a short walk to Morzine and the Pleney telecabine. This chalet sleeps five people in two bedrooms with two bathrooms. It has a large outside area, ideal for alfresco dining during the summer or having a soak in the hot hub.
Waterside
Waterside is a great apartment very close to town, but in a quiet position on the banks of the river Dranse. It sleeps four people in two bedrooms and an additional two people on the mezzanine. There is no outside space (other than the balcony), however it is very easy to to some great walks along the river.
Apartment La Ruche
Apartment La Ruche is in a great location opposite the Pleney slopes. Set over two floors, the living space is on the ground floor and opens out onto a large private garden and terrace. It sleeps eight people with three bedrooms and a bunk room making it perfect for families.
Copenhague
Right next to the main bus stop, and oppostie the Pleney telecabine, Copenhague is an ideal location whether you want a quick doggie leg stretch or decide to head out further afield. Sleeping six people in three bedrooms, the apartment also has a small terrace at the rear of the apartment which is perfect for your pup to relax outdoors.
Who are Mutts & Hounds?
Mutts & Hounds grew from the meeting of director Laura's love of animals and passion for design, textiles and interiors. The company has since gone on to become the premium British lifestyle brand for dogs and their owners, offering a wide range of products, each inspired by the beautiful Cotswold countryside surrounding the company's rural studio and workshop in Wiltshire.
The signature collection comprises a range of original and unique printed linens, Yorkshire tweed and Italian leather, with products ranging from collars and leads to beds, toys, bowls, biscuits and much more, including gifts for human and home, the majority of which are made in the company's small workshop in the UK.
The best times to bring your dog to Morzine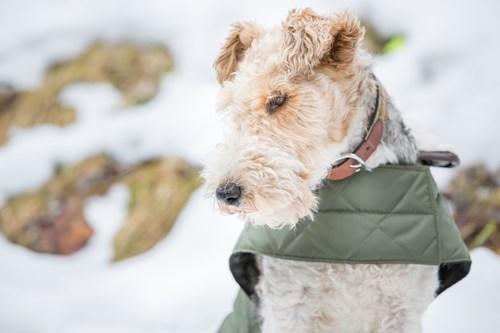 Sunny skiers and mild temperatures make Spring a great time to bring your dog to Morzine. The pace is a lot more relaxed in Spring than in Winter. You can have a slow start in the morning, and go for walkies while the snow softens before heading up the mountain. 
Of course Summer is ideal for bringing your dog to Morzine too. Whether you want to have an easy stroll along the river or go exploring the mountains and lakes on foot, staying in Morzine is perfect.
And once Spring arrives, the sun stays out longer in the evenings, making it ideal for a drink or two outside one of Morzine's many dog friendly bars.
So, if you want to bring your dog with you on your next holiday, give us on 0033 686 021 805 and we can get you sorted!